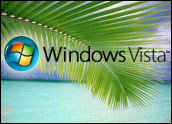 Microsoft on Wednesday announced details and a timeframe for the release of Vista's first service pack, giving a heads-up to businesses waiting on information needed to plan possible deployment of the company's latest operating system.
"Now is the time and the time is now: Let's talk about Windows Service Pack 1 (SP1)," Nick White, Vista product manager, wrote on the Windows Vista Blog. "Much has been made of what will or will not be included in SP1 and when it will be released — some accurate, some otherwise.
"I'm here to set the story straight: We're in the process of developing and deploying a beta version of SP1," he continued.
Missed Anniversary
The Redmond, Wa.-based company said it will release a beta version of the Vista service pack in "a few weeks." The final version of Vista SP1, Microsoft said, should be available during the first quarter of 2008.
The scheduled release of SP1 is late and should have been available at the latest by November, Michael Silver, an analyst at Gartner, told TechNewsWorld.
"It would have been nice if it could have been available for the 11/30 enterprise availability anniversary," he stated.
Circle of Life
For PC users and IT managers, service packs have become regular milestones in the life of a Windows operating system. They are, according to White, part of Microsoft's "commitment to continuous improvement." For Windows XP, the company released two service packs, each of which contained significant alterations and enhancements to the software.
While consumers look forward to service packs to fix pesky glitches in their applications, desktop managers have been anxious for Microsoft to make a Windows Vista SP1 announcement because it directly affects their plans for deploying a new operating system, Benjamin Gray, a Forrester Research analyst, told TechNewsWorld.
"Regardless of whether this is justified or not, experience tells desktop managers to not deploy a new Windows operating system until SP1," he said.
Kicking Enterprises Into Action
This, he continued, has proven particularly true with Windows Vista not only because of the ever-expanding number of devices and applications needing certification but also due to the importance of said applications. Vista has had compatibility issues with applications, including virtual private networking (VPN) and antivirus applications.
"A few major software vendors have been somewhat sluggish to get their enterprise-class applications certified for Vista," he explained. "So what good is a new OS if, for example, the VPN connection doesn't work for remote access or the antivirus software can't run?"
Since Vista's launch, more than 70 major enterprise software makers have released applications compatible with Vista, including Adobe, Citrix, Oracle, Sun, HP, LANDesk and IBM, according to Microsoft. SP1 will also include support for technologies such as flash memory storage and consumer devices that will use the exFAT file system, support for Secure Digital (SD) Advanced Direct Memory Access (DMA) as well as support for Direct3D 10.1
"SP1 is technically important because it will add support for emerging technologies, devices and standards and will address some early end-user feedback, but it's also symbolically significant for enterprises that have temporarily held off evaluating or deploying Vista," Gray pointed out. "After SP1 starts shipping by the major OEMs in Q1, I expect full-scale enterprise adoption to really kick off in mid-2008 — in line with the natural PC refresh cycle of enterprises."
The Big WU
Technology and tools included in Vista, however, have slightly altered what Microsoft includes in its service packs and when they are deployed. With the addition of the new Windows Update (WU) tool, the software maker no longer relies exclusively on its SPs as the primary method to disseminate system fixes and enhancements.
Instead, Microsoft can use the WU online service to deliver system repairs and other improvements. The new system alleviates the waiting game many enterprises and home users had to withstand as the company rolled its corrections into a single service pack. On Wednesday, Microsoft released an update using WU to improve two separate fixes to bump up Vista's reliability and performance.
"WU makes service packs less important because many important updates will be available long before the SP," Gartner's Silver noted. "But SPs are still important because they mark when the clock starts ticking for the end of support of the previous SP."
With mainstream deployment of the OS already underway, Silver said, it will pick-up after the release of SP1. "Most organizations will still need a few months to test the SP and integrate it into the process."
Upping Quality
Among the improvements included in the upcoming SP security, reliability and performance are top priorities.
Users frustrated with Vista's sometimes sluggish performance may see a boost after installing the SP. It's designed to improve the speed of extracting and copying files and shorten the time needed to switch from "Hibernate" and "Resume" modes to become active. Domain-joined PCs will function more quickly when operating off the domain.
Surfing the Internet will take on new speed with improvements to Windows Internet Explorer 7 for Vista with the reduction of CPU (central processing unit) utilization and increasing JavaScript parsing speed. Notebook battery life will also receive a bump up as CPU utilization is reduced by not redrawing the screen as frequently on certain computers.
On the security front, SP1 will provide security software vendors with a more secure method to communicate with Windows Security Center. It will include application programming interfaces (APIs) by which third-party security and malicious software detection applications can work with kernel patch protection on x64 versions of Vista. The API, Microsoft said, will help ISVs develop software that extends the functionality of the Windows kernel on x64 computers without disabling or weakening the protection offered by kernel patch protection.
SP1 will also improve the security of running RemoteApp programs and desktops by allowing Remote Desktop Protocol files to be signed, thus allowing users to differentiate user experiences based on the publisher's identity.
In terms of reliability, Microsoft said it continues to look at some of the most common causes of crashes and hangs in order to give users a more consistent experience. In this category, many of the planned improvements will specifically address issues identified in feedback provided by the Windows Error Reporting tool.
The service pack, Microsoft said, will improve reliability and compatibility of the OS when used with cutting-edge graphics cards in several scenarios and configurations as well as bump up reliability in networking configuration scenarios and for systems upgraded from Windows XP to Vista. Laptops used in conjunction with external displays will be more reliable as well. Vista will provide more compatibility with printer drivers. SP1 will also increase reliability and performance as the OS moves from sleep to active use and vice versa, according to Microsoft.