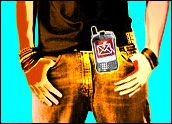 Higher data rates and sophisticated features such as digital cameras, mobile video and advanced gaming mean that more on-the-go functionality is now available to cell phone users. These advances come with a dark side, however, as consumers are struggling to make sure that their phones have enough battery power to support these functions adequately.
"As they look at improving their handsets, cell phone suppliers are bumping up against current power constraints," said Bob Egan, service director, emerging technologies at market research firm The Tower Group.
The problem has arisen because there is a disconnect between battery power improvements and cell phone advances. Whereas cell phones have been following Moore's Law, which predicts significant performance boosts — often a doubling of processing power — every 18 months, battery power enhancements have been occurring at a rate of less than 10 percent per year.
In an attempt to solve this problem, battery suppliers are tinkering with new technology and cell phone vendors are making phones that are more efficient in their use of power. "There are a lot of new technologies that could address battery problems, but it is unclear now which will capture the market's attention," said Alan Varghese, principal analyst of semiconductor research at market research firm ABI Research.
In With the New?
Currently, cell phone batteries rely on lithium ion to provide power, and some vendors are developing more efficient iterations of these devices. Toshiba designed a lithium ion battery that can absorb about 80 percent of a battery's total power capacity in about one minute. That's much faster than current charging rates of 2 to 3 percent of total capacity per minute. Consequently, users can recharge their systems more quickly.
A lot of attention has been focused on direct methanol fuel cells (DMFC), a new battery technology. Methanol is a colorless liquid that is lighter than water and weighs less than lithium ion. Theoretically, DMFC will be able to deliver two to 10 times the power of current batteries. Also, when a charge is needed, a DMFC refill can be completed without interrupting a battery's power, so users do not lose any data.
IBM and Sanyo have been working on a combination device. The twosome is building a DMFC battery that clips onto the back of a handset and works as a backup to a lithium ion battery. The fuel cell keeps the lithium battery charged when the handset as needed and releases additional power when the handset demands more than the battery can deliver.
No Immediate Solution
At this juncture, development of DMFC batteries has been limited to prototype and pilot phase. Commercial introductions from companies like Toshiba, Casio, Fujitsu, Hitachi and Sony are slated for 2007 or beyond.
A third design option is a micro polymer electrolyte fuel cell (PEFC). This system works by combining hydrogen with oxygen, generating electricity and water. Proponents claim PEFCs are more powerful than the DMFC batteries, but it too is more of a theoretical rather than a practical solution.
In addition to new battery types, vendors have been trying to enhance the intelligence found in their battery management systems. "Power management has been an area of focus, and handset vendors are delivering systems that closely monitor power usage and deliver only the amount of power needed," said Sara Bradford, research manager for Frost & Sullivan's power supplies and batteries group.
In this case, handsets deliver more power when a complex transaction, say displaying a video clip, takes place, and less power when a simple task, say displaying a text message, occurs. The close monitoring of the handset functions eliminates unnecessary battery drain.
Come a Little Bit Closer
The growing importance of battery life has required that handset and battery manufacturers work more closely together. "Since tight coupling between handset components is crucial to reducing power consumption, companies that offer discrete power solutions are going to suffer at the hands of those offering integrated platform solutions," noted ABI Research's Varghese.
While they have made progress in improving battery life, vendors also face many challenges. "Vendors have cleared a number of technical hurdles but still must address some more obstacles before any of the new battery options become available," said Frost & Sullivan's Bradford. Also, the vendors are aiming at a moving target: Users want more and more network bandwidth and internal memory so their phones can support emerging applications, such as online video.
The ad hoc nature of battery development is expected to result in nonstandard products. "Major vendors are using different types and amounts of fuel to power batteries of different sizes, so it will not be easy for them to deliver the volumes and scale necessary to drive down pricing," Bradford told TechNewsWorld.
Consequently, battery improvements are expected to be delivered incrementally rather than across all product lines. "New battery functions will show up first in high-end devices used by businessmen," ABI Research's Varghese said. "These users are more willing to pay extra for the functionality than consumers."
Even at the high end, longer life batteries are considered a long-term rather than a short-term solution. "Because there are so many questions surrounding the next-generation products, I don't expect a clear-cut solution to battery problems to arrive for a couple of years," concluded Frost & Sullivan's Bradford.