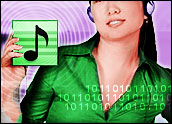 At the moment, the truism that "imitation is the sincerest form of flattery" can easily be applied to Apple's iTunes online music store and those services that are attempting to compete with it. In April 2003, Apple launched the iTunes service and quickly sold millions of songs. As a result, companies such as AllofMP3.com, Microsoft, MusicMatch, Napster, Rhapsody, Sony and even Wal-Mart have taken various approaches to try and duplicate Apple's success.
Throughout its history, Apple has focused on delivering products that are simple to use. It is a technology strategy that has carried over to iTunes.
"The Apple service was quite user friendly; customers could easily see what others were listening to, listen to preview cuts and download their selections with a single click," said Phil Leigh, president of market research firm Inside Digital Media.
Another key to the success of iTunes — according to most analysts — is that the service provided users with the ability to play their music on different devices, a step that record labels had been loathe to endorse because they feared that it would contribute to illegal copying.
RIAA Findings
In fact, the recording industry reports having lost billions of dollars to illegal downloading.
In 2000, the Recording Industry Association of America found that music companies generated US$13.2 billion in sales worldwide, a number that dropped to $11.2 billion in 2003, mainly because certain users no longer pay for songs.
Record labels have tried to slow the illicit practice by enforcing copyright laws, shutting down illegal downloading suppliers and even taking individuals to court.
Because their efforts have done little to boost revenue, record companies have been more willing to loosen up their distribution mechanisms to encourage potential illegal downloaders to pay for their music.
Priced Right
Low price is a big lure with the iTunes service: Users can purchase songs for 99 cents each. Here, once again, record labels have been willing to give Apple some concessions that they had been unwilling to grant other music services until Apple paved the way.
"Apple's size, its proven track record with new technologies, and its willingness to pump millions of dollars into an emerging market convinced record labels that supporting iTunes would be a good risk," noted Tim Deal, a senior analyst with Technology Business Research.
Because of its initial and ongoing successes, Apple has become the market leader, at least in terms of perception. "Apple's iTunes service garnered more attention than even the relaunch of Napster, which was a bit of a surprise," noted David Card, a senior analyst with Jupiter Research.
Several companies want to loosen Apple's grip on the marketplace because the market for digital music is expected to be quite lucrative. Jupiter expects worldwide revenue from music downloads and subscription services to grow from $80 million in 2004 to $1.6 billion in 2008.
Sony a Worthy Foe for Apple?
Sony would seem to be a worthy foe for Apple. The Japanese conglomerate has been a successful computer vendor, is a leading supplier of consumer products, such as DVD players and portable music systems, and owns many record labels.
In January 2004, the company unveiled its SonyConnect service, which also lets users download songs for 99 cents. "I was surprised that Sony did not have more exclusive agreements with its recording artists for downloading its songs," Technology Business Research's Deal told TechNewsWorld.
"That is one way the company could down-leverage its assets." Another way to down-leverage its assets is offer video downloads from its movie divisions as well as music downloads, a step the firm is expected to take in the coming months.
Taking a Different Approach
Firms such as MusicMatch, Napster and Rhapsody have a different business model than Apple does. While each of the alternate services does offer music for sale — by the song and by the album — they are primarily promoting subscriptions where users pay a monthly fee to listen to music.
Because it has a well-known brand, Napster might have the best chance for survival among these alternate suppliers. But Microsoft also has been dabbling in this space.
In typical fashion, Microsoft is concentrating on promoting use of its software, Windows Media Player, for music downloads. Rather than attempt to control all of the elements of the online-music equation directly, Microsoft has worked with firms like MusicMatch, Napster and Rhapsody to promote their services.
The strength of those relationships is expected to be tested later this year when Microsoft announces its own music store.
Market Likely To Change
Wal-Mart represents the last group vying for attention in this market: the retailers. Because the company is an expert at large-scale distribution, it is not surprising that Wal-Mart's differentiator is price: Its music downloads are available for 88 cents, more than 10 percent lower than other vendors.
"Since music downloads are a consumer purchase, I do think other firms may be forced to match Wal-Mart's pricing," said Technology Business Research's Deal.
The music downloading business has changed greatly since Apple entered this space more than one year ago.
"Apple is now a step ahead of other companies both in market perception as well as the quality of its service," concluded Jupiter Research's Card. "But this is a market still in a very early stage of development, so change is not only possible, but also likely."