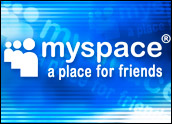 MySpace and TV producer Mark Burnett announced Friday that they are working on a new reality TV show focused on finding the next great American politician.
The new, interactive series, called "Independent," will use online, offline and on-air tactics to find the politician viewers feel best represents the voice of young Americans. Though not yet picked up by a TV network, it is planned for launch in early 2008.
"'Independent' represents a giant leap in the re-democratization of American politics," said Chris DeWolfe, CEO and cofounder of MySpace.
"We're going to discover in a big way what America really thinks, and bring to light the issues that are closest to those who now finally have a chance to be heard," added Burnett. "The largest number of eyeballs able to be reached at any one time is still network television. But clearly, the world's largest social networking community is found on MySpace, and this huge, powerful group of young Americans will definitely generate strong opinions and unquestionable influence."
Issues That Matter
Prospective candidates will apply via MySpace Video. Selected candidates will create MySpace profiles to serve as their campaign platforms and, through an interactive town-hall environment, they will receive feedback from the viewing public both within the TV series and online through the MySpace community.
Candidates will be challenged with issues and questions from the MySpace community, and will battle it out in hometown debates. Prominent national politicians will also be invited to participate as mentors while candidates struggle with community and constituent relations, campaign crises and the election process.
One Big String Attached
The winner of the show will receive an award of US$1 million, with just one catch — they can't keep it.
Instead, they can choose from a number of politically focused ways to use the money, including actually running for office themselves, donating the money to a political action group or funding a third political party to better represent the voice of young America. The choice the winner makes will be "greatly influenced by the MySpace community and the viewers of the network television show," officials said.
By involving young Americans in the political process, "'Independent' will shape the upcoming election by opening the eyes of a new generation of voters to the power of their opinions and the value of their passions," the companies stated.
A New Political Force?
In a way that few could have predicted in the last presidential election, MySpace and other social networking sites have begun having a real impact on the political process. Most of the presidential candidates have set up profiles on these sites, and the MySpace Presidential Primary will be held in January of next year.
"MySpace has been doing some interesting things," Julie Barko Germany, deputy director for the Institute for Politics Democracy & the Internet at George Washington University's Graduate School of Political Management, told TechNewsWorld. "If 'Independent' engages average Americans, it could be worthwhile."
"The superficial aspect of reality TV that works so well in some contexts might not work so well in 'Independent,'" Matthew Felling, media director for The Center for Media and Public Affairs, told TechNewsWorld. "Then again, our political system has become so superficial anyway, it might not be that big a drop."
The Next Step
If the show raises political consciousness in a new constituency of Americans, it could succeed, Felling said. "If, down the line, the show draws eyeballs and a candidate draws enough grassroots support, he or she could become a political player in the manner of a union boss that the major party candidates will have to court.
"The line separating politics and entertainment have already been blurring, so this might be the logical next step," Felling added. "I wouldn't put it past Burnett to make it work."
Of course, not everyone agrees.
Deja Vu
"People pay attention to who is running for president because it matters," Micah Sifry, executive editor of the Personal Democracy Forum, told TechNewsWorld. "People are not likely to pay attention to a faux candidate game on their own."
The premise of "Independent" is similar to that of the 2004 Showtime program, "American Candidate," Sifry noted. "I suspect that without a major investment of marketing resources, 'Independent' will be as memorable," he said.
The million-dollar prize for the winner also seemed to draw some surprise.
"There are very strict rules about donations for political purposes," Germany noted. Since by law no one is allowed to donate more than $2,300 to a political candidate, Germany said, "I don't see how that's going to work."
If the winner hopes to use the money for a run for the White House, "one million dollars is a joke," Felling said. "That would buy a one-minute spot ad."
A Political Generation
There's also the question of whether young Americans today need help becoming more engaged in the political process. In addition to all the politically focused social networking evidence, people born between 1978 and 1996 tend to be the most politically active young Americans in recent history, Peter Leyden, director of the New Politics Institute, told TechNewsWorld.
This "millennial generation," as Leyden's group calls it, is bigger than the Baby Boom generation and much more politically interested and engaged than either Baby Boomers or Generation X members were as young adults.
"These young people show much more active involvement, they vote in higher numbers and are very civic-minded, so a show on politics may well be very attractive," Leyden said. "American politics are going to be very affected by this generation because it's huge, it's politically interested, and it really understands new media tools and the Internet."
Widening the Circle
Young adults today also tend to be progressive, and to want a break from the bitter, partisan politics of the past, Leyden added. So while they're by no means alienated from the political process, he said, "there is a real appetite for next-generation politics."
"If this widens the circle, that can only improve our national dialog," Felling concluded. "The more people are thinking critically, making informed decisions and developing a political curiosity, the closer we get to what the Founding Fathers had in mind in the first place."