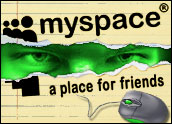 MySpace won't comply with a request by eight state attorneys general for it to supply information about sex offenders registered on the site, the company announced Tuesday.
Citing the Electronic Communications Privacy Act (ECPA), MySpace said it is prohibited by law from turning over the information without a subpoena.
"We are doing everything short of breaking the law to ensure that the information about these predators gets to the proper authorities," said Hemanshu Nigam, chief security officer for MySpace.
'More Than Willing'
"The ECPA prohibits us from disclosing the information they're seeking without a subpoena, but we want to work with the attorneys general to find ways to get the information into the right hands," Nigam added. "Make no mistake, we are more than willing to provide this information as long we don't have to break laws to do it."
MySpace announced in December that it had hired Sentinel Tech Holdings to check the site for registered sex offenders. That search uncovered thousands of offenders with MySpace profiles, according to Connecticut Attorney General Richard Blumenthal, though no numbers have been disclosed by MySpace.
Blumenthal and North Carolina Attorney General Roy Cooper are leading a group of states pushing MySpace to make the site safer for children. Their request was sent in a letter to MySpace on Monday.
Deleted and Removed
"MySpace has zero tolerance for sexual predators, which is why we devoted a team of engineers to work around the clock with Sentinel Tech to develop the nation's first proprietary software dedicated to identifying and removing sexual predators from online communities," Nigam said.
"In the 12 days since the software has become operable, we have deleted and removed every registered sex offender that we identified out of our more than 175 million profiles," he added.
Not surprisingly, Blumenthal and Cooper were both dismayed by MySpace's response.
'Inexplicable and Inexcusable'
"I am deeply disappointed by MySpace's disingenuous refusal to provide information about convicted sex offenders with profiles on its site," Blumenthal said. "No subpoena is needed for much of the information we requested, such as the number of registered sex offenders with MySpace profiles. MySpace's failure to give us this essential data is inexplicable and inexcusable."
"Yesterday, MySpace admitted they've found thousands of sex offenders on their site but they have refused to provide information so law enforcement and parents can do something about it," Cooper added.
"It's outrageous that MySpace chooses to protect the privacy of predators over the safety of children," Cooper said. "We will take action to require MySpace to give law enforcement and parents the information we need to protect our kids."
Not an ECPA Issue?
"I think MySpace sees political risk from a user standpoint in divulging the information, " Greg Sterling, founding principal at Sterling Market Intelligence, told TechNewsWorld. "They want to safeguard the privacy of users to avoid risking a loss of trust."
MySpace's interpretation of the ECPA was puzzling to at least one privacy law expert.
"I am surprised they are responding this way," privacy lawyer Parry Aftab told TechNewsWorld. "It's interesting that MySpace is falling back on the ECPA, because that law deals with electronic communications, not registration information," Aftab explained. "Based on what I've seen, this is not an ECPA issue."
Given that MySpace is a free site that doesn't verify users' identities, the amount of credible information it is likely to have is also very limited, Aftab pointed out. "You'd think most sex offenders would be smart enough not to use their real names," she said.
Consent Ahead of Time
Because users must agree to MySpace's privacy policy when they register on the site — a policy that includes a provision giving the company the ability to help law enforcement when needed, Aftab said — they have essentially given their consent ahead of time, she said.
"Under my reading, if users have to consent to MySpace's terms and privacy policy, that's the consent that's necessary for the purposes of taking this outside the ECPA," Aftab said.
Looking to Lawmakers
MySpace called on legislators to help keep online communities safe.
"Our aim to make the Internet a safer haven for teens can't be achieved alone," MySpace's Nigam said.
"We need cooperation from lawmakers to drive mandatory sex offender e-mail registration legislation at the federal and state level to make blocking predators from community-based Web sites a more efficient process," he said. "Our hope is that the attorneys general who signed onto this letter, and other Web sites, join us in pushing this legislation into law."
Need for Age Verification
While MySpace requires that users be at least 14, it does nothing to verify the age information users report, and that's something that needs to change, Teri Schroeder, CEO of i-SAFE, told TechNewsWorld.
"For an organization that strives to maintain an open and unbiased environment, this creates a political problem for MySpace," Schroeder said. "I know they do care about the issue of safety regarding kids and teens, but we'd like them to deal with it on a different level."
Specifically, i-SAFE has spoken to MySpace about deploying age verification technologies, so that all the information it collects does not depend on the veracity of the user, Schroeder said. Otherwise, the site's open atmosphere is "setting up youth to engage in a disaster," she added, with a high likelihood that children will come into contact with someone of ill intent or at least from an inappropriate age group for them.
"It's a ticking time bomb," Schroeder concluded. "I'm sure MySpace is dealing with it, but in the meantime the bomb is getting bigger and bigger."