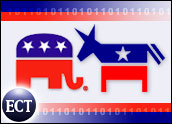 On Feb. 2, leading presidential candidates will have one last chance to make their pitches to young voters before Super Tuesday with the final installment of "Closing Arguments: A Presidential Super Dialogue," a presidential candidate discussion hosted by MySpace and MTV.
Democratic contender Hillary Clinton and Republican candidate Mike Huckabee have committed to take part in the Feb. 2 event, broadcast live from MTV's Times Square studios. Other high-profile candidates, including Barack Obama, John McCain, John Edwards, Mitt Romney and Rudy Giuliani, have also been invited to participate.
The candidates' talk will be carried on air, online, on XM Satellite Radio, MTV and AP Radio, as well as on mobile phones via MTV Mobile. It will also be disseminated locally by event cohost The Associated Press as a live feed with on-demand highlights sent out to the 1,800 media sites that make up its Online Video Network. Nearly one-third are local TV, newspaper or radio sites in Super Tuesday states.
Where the Young People Are
Touting the fourth "Dialogue" as the "most publicly accessible and interactive presidential candidate event in history," MySpace and MTV said the event will offer candidates a last chance to take their cases to the American people — in particular the "energized and pivotal youth voting bloc," with more mediums available for people to catch the live event.
The candidates will address the viewers, individually answering questions from online viewers via MySpaceIM and MTV's ChooseorLose.com site, as well as from the live audience in New York, event organizers said. MTV News correspondents Gideon Yago and Sway Calloway will moderate the discussion along with Washington Post political reporter Chris Cillizza.
The under-30 crowd has shown an unprecedented interest in the 2008 presidential campaign thus far. They have turned out in record numbers at primaries and caucuses in Iowa and South Carolina, where they tripled their presence, and in New Hampshire, where twice as many young voters took part than had in the 2004 election.
Upping the Cool Factor?
The candidates have come a long way in eight years, and this election cycle is noteworthy for the effort candidates have made to establish their candidacy online. Front runners as well as those in the back of the pack go well beyond having official Web sites — they've involved themselves with many Web 2.0 media such as social networking sites, blogs and video sharing. However, does having a MySpace page and taking part in these youth-focused "Dialogues" increase a candidate's cool bona fides among young voters?
"Is anyone running for the nomination cool?" posed John Barrett, director of research at Parks Associates. "Holding these debates on MySpace is always nice, but I'm not sure how much more you're gonna get a lot of kids who are 18 and go 'Oh wow, I really feel like I'm connecting with the candidates.'"
There is something to be said about the format of these online debates and being able to ask the candidates questions — a greater interactivity that appeals to voters of all ages. That sort of openness broadens the range of questions to include man-on-the-street queries, Barrett told TechNewsWorld.
"There is some value in reaching out and trying to communicate with people via the Internet. I think also, though, a lot of it gets back to the old-school nuts-and-bolts of campaigning. Howard Dean tapped into this Internet constituency. All the candidates have their base of supporters. But the 18- to 22-year-old demographic, they don't historically vote in huge numbers — they are not historically really engaged in politics," he explained.
"If you're a candidate like Obama and you're appealing to that, then it makes sense to reach out and to tap into all of that — the Internet and social networking — it makes sense to do that. But you have to consider that against how hard it will be to get an 18-year-old to vote for [a less well known candidate]. Unless he resonates with that demographic, I don't think just the fact that he has a MySpace page will get people to vote for him," Barrett continued.
Small Influence
MTV has been presence in elections and used by candidates to connect with voters since 1992, and now places like YouTube and MySpace are increasingly important vehicles to reach these same audiences as more and more young people are online, explained Greg Sterling, principal analyst at Sterling Market Intelligence.
"A particularly strong or good appearance by a candidate — or a particularly poor one — might have some impact, but there are many more influences going on that affect people's votes. These are cumulative and have an impact in the aggregate, but any one of them in isolation is not going to be determinative of anything in all likelihood," he told TechNewsWorld.