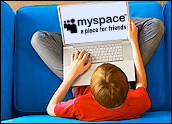 MySpace announced Thursday a joint venture with three of the world's four largest record companies — Sony BMG, Universal and Warner Music — to launch a new online music service. The service will add new features to the social network's existing music portal, MySpace Music.
MySpace Music will begin to offer users the ability to purchase music downloads, check out ad-supported streaming audio and video, and buy a range of mobile solutions, merchandise and concert tickets.
With the move, MySpace hopes to capitalize on the 5 million artist profile pages it hosts and the 30 million users currently on its music-related site. The recording labels seek to bolster the flagging CD market with a push toward digital downloads.
"Certainly, MySpace's audience reach is an asset. If the service works, it should benefit both [MySpace and the record labels]. In the short-term, however, until real revenues start being generated, MySpace is likely to be the beneficiary," Mike McGuire, an analyst at Gartner, told TechNewsWorld.
Making Beautiful Music
Under the deal, the MySpace Music site will be spun out and become an independently run service with its own executive team comprised of representatives from all of the partners — MySpace, Universal, Sony BMG and Warner Music.
Although specific details about the financial terms of the venture were not released, the recording companies will hold a minority stake in the new service, which will generate revenues through advertising, paid downloads, various sponsorship solutions and a mobile storefront that will sell ringtones and artist wallpaper, according to MySpace.
MySpace Music will expand upon the social networking perks with which users have become familiar. In terms of streaming music, the service will offer a full catalogue of tracks that users can listen to. Users can create playlists and trade those playlists with other MySpacers.
"We'll be creating and layering on lots of community features from a recommendation engine to other discovery tools," said Chris DeWolfe, CEO of MySpace.
"If you look at MySpace Music now, it's up and running right now. In terms of adding all the features we've mentioned, it will happen on an ongoing basis and you'll see some really big changes over the next three to four months," he continued.
While DeWolfe could not say whether all the tracks would be offered without digital rights management restrictions, he said the service is headed in that direction.
Musical Chairs
Rumors about a major partnership between the Big Four record labels and MySpace began leaking out back in February. However, with the announcement Thursday, EMI is apparently the lone holdout.
"[MySpace Music is] going to be hobbled until they get all four of the majors and the top 100 or so independent bands, in addition to corralling all the bands that don't have label agreements but have created pages," said McGuire.
For its part, MySpace is looking beyond the four major labels and is working on ways to include independent and unsigned artists in the new service, according to Amit Kapur, MySpace COO.
"We'd like to do business with everyone, and you'd have to ask EMI specifically where they are with that. But we're certainly talking to everyone out there," DeWolfe said.
The deal will benefit both MySpace and the record labels by giving the music industry access to a larger audience while at the same time giving the social networking site the ability to establish itself as a player in the digital download market and as a music destination site, Susan Kevorkian, an IDC analyst, told TechNewsworld.
"In that respect, it is important for both. But [they] will have to have all the major players on board. It is not enough to have only three when making a play against iTunes and Amazon," she explained.
EMI, Kevorkian stated, will eventually come on board.
"One of the trends we've seen in this space, particularly with high-profile deals, is we'll see one of the labels strike a deal early on and the others follow later on at their own rate. That seems to be part and parcel of the music industry strategy around digital music. They may not all hop on the same bandwagon simultaneously," she pointed out.
The service will initially be available to users in the U.S. with the service rolling out globally over time.