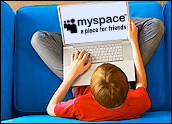 MySpace users will soon be able to chat by phone thanks to a new partnership between Skype and the popular social networking site, the companies announced Wednesday.
MySpaceIM with Skype is a new product that integrates MySpace's instant messaging client with Skype's free voice-calling capability using Voice over Internet Protocol (VoIP). Launching next month in 20 countries with localized MySpace communities, MySpaceIM with Skype will enable millions of users to place free Skype Internet calls to other MySpace or Skype users.
"Skype has the leading technology in Internet voice communications and an enormous international user base that we're thrilled to connect with our existing community," said Chris DeWolfe, cofounder and CEO of MySpace, which is owned by News Corp. "Our network has no geographical boundaries — Internet calling is the natural next step for how our members communicate with each other."
MySpace claims more than 110 million monthly active users, while Skype boasts 220 million registered users. Financial terms of the deal were not disclosed.
Privacy Protection
MySpace users will not be required to download any additional Skype software to take advantage of the feature, which will give users more ways to easily connect with friends and family around the world, the company said.
The new functionality will also tap into the personal privacy settings available on MySpace. Users who have a MySpace profile set to "private," for example, will not be able to receive Skype calls from people not on their friends lists. Users can also choose to allow only people on a select Skype personal contact list to call them. They can prescreen incoming callers and block any MySpaceIM with Skype call or user at any time.
Two-Way Connection
Another new feature enabled by the MySpace-Skype partnership will allow users to link their MySpace profiles and photos or avatars to their accounts on Skype. Skype's VoIP service is available in 28 languages and is used in almost every country around the world, the company says, and the new feature will be available globally except in Japan, China and Taiwan.
"Both MySpace and Skype have become a part of people's lives by bringing people closer together, no matter where they live in the world," said Michael Van Swaaij, interim CEO of Skype. "This partnership reiterates that Skype is the platform of choice for Internet communications because we make it simpler and easier for people to place free calls to one another whether they are on Skype or within the MySpace network."
A Communications Medium
The deal makes sense for both MySpace and Skype, Rob Enderle, president and principal analyst with Enderle Group, told TechNewsWorld.
"Skype needs some good news, and this adds one more service that MySpace can use to showcase its site as a platform," Enderle explained.
Indeed, social networks in general and MySpace in particular are increasingly becoming a communications medium, added John Barrett, director of research with Parks Associates. "I think social networks are the dial tone for the next generation. People plug in when they want to, they exchange messages openly or privately, and then they unplug again. Adding voice to that is a really smart move."
'A Dead Heat'
Whether or not Facebook, MySpace's principal competitor, will offer something similar remains to be seen. "I think Facebook is able to move a little more quickly and to be a little more nimble because it doesn't have a large corporate parent," Barrett said.
The percentage of people using Facebook is increasing at a faster rate than that using MySpace, he noted. "A lot of the chatter suggests MySpace has become slightly less cool, with a tarnish that Facebook hasn't yet acquired," he said.
Will VoIP provide the proverbial magic bullet to fend off competition from Facebook? "It could make MySpace more appealing, but I doubt it could do that," Barrett said.
"MySpace is in a dead heat with Facebook, and both are trying to add more and more capabilities," Enderle concluded. "It will be interesting watching these guys compete going forward."