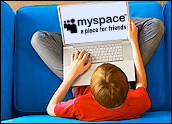 On Feb. 5, the MySpace Developer Platform (MDP) will go live, the social networking site announced Wednesday. Software developers interested in bringing their applications to the social networking site can preregister on MySpace.
"The MySpace Developer Platform will be the world's sandbox, allowing developers large and small to come together and easily build creative, user-enriching applications for MySpace," the company said.
It's a Platform World
MDP will open its doors to third-party developers nearly one year after social networking rival Facebook made its platform available to outside developers. Since it launched in May 2007, developers have created nearly 15,000 applications for the site for everything from adding a user's favorite music to his or her profile to casual games, astrology and business applications.
"Third-party development has become a must-have for social networks as they seek to balance the need to open their platforms to remain competitive with developers and users with the need to retain some proprietary data assets to monetize through marketers," Andrew Frank, a Gartner analyst, told TechNewsWorld.
Sticky Sites
MySpace initially announced its intention to create a developer platform in October, saying that the company would have an offering up within a few months.
"Strategically it's a smart move to make," said Karsten Weide, an analyst at IDC.
The News Corp.-owned site had to open its own platform because it provides users with much more functionality on the social networks which in turn gives the sites much more utility and stickiness.
"Users will be more likely to come back and stick with the site and spend more time on the site using those third-party applications on the social networks," Weide explained.
More than 50 percent of Facebook users return to the site every day, and more than 95 percent of its members have used at least one application built on the Facebook Platform, according to the company.
"Users get [the applications they want] all in one place. And ideally they get them in the place they spend the most time anyway. A lot of people already spend a lot of time on MySpace, and anything you can add to this experience is good for MySpace. More stickiness, more traffic; and more traffic means more advertising," he pointed out.
Getting Friendly With Google
Google's revelation in November that MySpace had agreed to join a consortium of social networking sites known as OpenSocial came next. The group's goal is to create an open platform environment for third-party developers with a core set of APIs (application programming interfaces) supported by social networking sites such as LinkedIn, Ning, Friendster and Plaxo.
With the MDP launch, MySpace has flipped the script on its past refusals to allow only a few third-party software makers access to its site; however, it is still unclear how MDP will mesh with the OpenSocial initiative.
Most of the OpenSocial members are second and third-tier social networking sites, with MySpace the juggernaut in the group. While an open platform standard would help MySpace attract more applications than if it went it alone, it may not benefit the other members because they are not as large, Weide told TechNewsWorld.
"How is this going to work?" he pondered.
MySpace will release additional details about MDP when the site launches next Tuesday. It noted that it's launching the site as a result of the "global call for innovative social applications" and that "the MySpace community will be strengthened through new ways for friends to express themselves, communicate and connect."