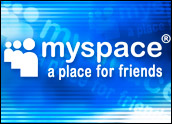 MySpacers who want a little more drama in their lives will be able to get their fill from a new Web series launched on MySpace TV Monday. Sponsored by Ford Motor, "Roommates," an original scripted series, will roll out over the next nine weeks with daily weekday updates on the world's most popular social network.
"Whether it's network television shows, original Web productions or user-generated genius, we're committed to offering our users the most exciting content anywhere on the net," said Jeff Berman, general manager of MySpace TV. "We're thrilled to see that MySpace TV is quickly becoming Hollywood's digital playground."
"Roommates" is one of two original scripted series to debut on MySpace. "Quarterlife," the second series written and produced by Marshall Herskovitz and Edward Zwick, the creative team behind "My So-Called Life," "Thirtysomething" and "Blood Diamond," will make its bow on MySpace TV on Nov. 11.
The After College Party
The three-minute episodes track the lives of eight former college roommates following their graduation. Peyton, Violet, Heather and Sigourney, the show's main characters, move to Los Angeles and are asked to take part in a "reality show" where their every move inside the house they share will be documented with video cameras and computers.
Cocreated with Iron Sink Media, the show is a mixture of "raw and voyeuristic segments, confessionals and college flashback footage," according to MySpace. The lead characters' old friends and former loves will add an interactive component and address viewers via video blogs.
Episodes are available on the official "Roommates" profile page. Users will also find profiles for each character in the series, exclusive video blog postings from the characters, on-demand archives, and other interactive content. MySpacers' interaction with the characters through their profile pages and online discussions will have the opportunity to influence the plot of the show as it continues. A polling tool installed on the "Roommates" profile page will "gauge real-time audience opinions on character development and specific aspects of the storyline."
New episodes will debut each weekday at 4 p.m. Eastern, or 1 p.m. Pacific.
Brave New Advertising Frontier
While MySpace TV hosts a number of original Web series, this foray into original scripted episodes marks the first time that the social network has co-developed a series. With serialized content of all lengths available, the line between traditional TV and Web-based content has become blurry, said John Barrett, a Parks Associates analyst. Right now there is a lot of experimentation going on among the social networks.
"The serialized content is appealing [because] there are advertisers that are very hesitant to associate their brands with unknown content," he told TechNewsWorld. "But if you can offer some sort of serialized content, then it's a much easier sell.
With serialized content, the social network can approach potential advertisers with a solid and predictable product, Barret said. Serials allow advertisers to determine whether they want their brand associated with a given line of content and how to target the correct demographic.
"It's just an easier sell than a banner ad. [Sites] can get some metrics showing each week the number of people who watch the show, and the people that watch are of this demographic and live in this part of the country," he continued.
That is much more familiar to advertisers, as it happens all the time with broadcast and cable TV shows, he said.
Internet users should expect to see other social networking sites launching their own serialized shows as well, said Phil Leigh, president of Inside Digital Media.
"We are likely to see more of this," he told TechNewsWorld. "MySpace is currently the best place to launch it because of the huge traffic and high degree of viewer participation."
"Roommates" is the "first important iteration of the future of television, in the sense that it uses the interactive capabilities of the Internet to more directly involve the viewer in the show," Leigh said.
"This is a significant development and could well be viewed by historians as a key mutation point in the evolution of video entertainment owing to heavy direct viewer involvement," he added.
No Emmys Yet
The picture may not, however, be so rosy for the future of original Web-based series, Jeremiah Owyang, a senior analyst at Forrester Research.
"Consumers have the ability to sniff out authenticity, and it's obvious to users that these are actors staying in character for long periods of time, but that kind of thing doesn't translate well over the Web," he told TechNewsWorld.
That failure to connect can be seen in previous Web-based hits such as "Lonely Girl 15," a series of videos that went big on YouTube but crashed and burned once users found out that "Lonely Girl" was not a real-life drama but a scripted show with actors instead of regular, everyday people, Owyang pointed out.
"Consumers and users want to know if it is authentic or not," he continued. "And granted, there are a lot of TV shows that are also on MySpace and Facebook, but when the actor leaves the stage, we know that they are back to being an actor again. It doesn't carry on to the rest of their lives."
Success for this show is by no means guaranteed — in fact, Owyang said he does not expect it to succeed. However, he does anticipate that developers will keep at it until they manage to get it right. The problem is that creators are approaching the issue from the wrong end, he said.
"We're going to see this until somebody gets the formula right and it will vary," he stated. "There might be other areas of success with shows that are already successful that open up their doors on social networks to then get feedback.
"They will benefit stronger by having a community that is already engaged in a brand rather than trying to do it the other way around," he concluded.