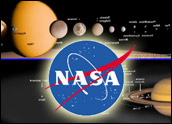 TheFederal Bureau of Investigation and theNational Aeronautics and Space Administration seem like unlikely partners, yet the two have worked together to solve a number of crimes in recent years.
NASA researchers developed sophisticatedsoftware called Video Image Stabilization and Registration, or VISAR, to analyze satellite video images, and the technology has enabled law enforcement officials to get a better look at telltale items from afar, such as a suspect's face or the license plate of a getaway car.
"When we developed VISAR, we obviously were not thinking about using it in law enforcement, but there are many similarities between what we do and what investigators do," noted Dr. David H. Hathaway, solar physicist at NASA.
Video Cleanup
Hathaway and his colleague, atmospheric scientist Paul Meyer, developed VISAR at NASA's Marshall Space Flight Center in Huntsville, Alabama. Hathaway spends most of his day studying the impact of violent explosions on the Sun, and Meyer examines hazardous weather conditions on Earth.
The scientists' sideline began in 1996 when the FBI approached them about a bombing that killed two people and injured hundreds at the Olympic Summer Games in Atlanta. "The FBI knew that we had done some work enhancing images from the Hubble Telescope and wanted to apply that work to the Olympic bombing," Hathaway told TechNewsWorld.
The law enforcement agency had some home videos of the scene, but the pictures were grainy and the images were difficult to discern. Using VISAR, Hathaway and Meyer were able to enhance the videotapes and reveal important details about the bomb itself and the explosion. "The closeups of the bomb blowing up that were repeatedly shown on TV were the product of our system," said Hathaway.
Righting an Unsteady Hand
The two scientists often work with satellite images with initially poor quality. They designed VISAR in part to overcome such problems. The system, which can work with a single frame or a series of video frames, compensates for problems, such as video taken in extremely low lighting, by using computer simulation to adjust and clarify the images. In addition, VISAR removes noise or, "snow," from the video. It corrects horizontal or vertical motion, which occurs when an unsteady hand takes a picture, and includes a zoom feature that enables a user to amplify a small image. Consequently, the system produces clear crisp images of moving objects that initially appear small and blurry.
Typically, law enforcement officers look over the scientists' shoulders as they tinker with a video. "Police officers will often ask us to zoom in on a criminal's face or slow down a particular movement," said Hathaway. "One time, police were sitting with a suspect and his mother, and she said, 'That's you, honey' when they were shown the film."
Since the first FBI case, Hathaway and Meyer have worked with local and state police as well as the FBI on about 50 criminal cases. Enhancing a security camera videotape made during the kidnapping of a Minnesota teenager helped the FBI and police identify and eventually convict the abductor.
Limited Access
Although the system has been used by law enforcement, it has so far not been used by those representing defendants. When contacted by the Innocence Project, a group headed by Barry C. Scheck, former member of O.J. Simpson's defense team, to assist on building a defense case, NASA declined, saying it did not think that was a suitable use of the technology.
Despite the developers' impressive engineering backgrounds, VISAR's underlying technology is simple: It only takes up a few thousand lines of computer code and is not based on any space-age breakthroughs.
"While VISAR is fairly simple, what was novel was the way that the NASA scientists applied existing technologies to solve problems associated with video quality," said Gene Grindstaff, a chief scientist at Intergraph, which focuses on complex computing applications.
Since the initial FBI case, the federal agency has worked with Intergraph to develop a commercial version of VISAR, and it has been used by video producers, airlines, shipping firms and the military. Medical evaluations are another area where the technology has tremendous potential. Hathaway and Meyer have worked with the Casey Eye Institute at the Oregon Health Sciences University in Portland so the system can aid in the study of cell movements in the eye associated with immune system diseases. After NASA enhances videos, researchers can see cell movements inside the eye that were previously undetectable.
Not on Our Time
The VISAR system keeps the scientists busy. "NASA expects me to put in an eight-hour day working on my space projects and to do the VISAR work in my spare time," noted Hathaway.
The agency has made a few compromises to help the scientists out. NASA helps them publicize the technology and they receive royalties from commercial VISAR sales.
Hathaway said the double workload suits him just fine. "I love the work I do at NASA, but there is a special feeling of satisfaction that I get whenever law enforcement uses VISAR to bring a criminal to justice," he said.