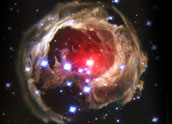 NASA has announced it has successfully tested the first deep-space communications network. The new network, modeled on the Internet, was able to transmit scores of space images between Earth and a NASA science spacecraft located more than 20 million miles away.
Dubbed the "Interplanetary Internet," the software protocol was a joint venture between NASA and Vint Cerf, a vice president at Google, that began in 1998. However, it was a team of engineers from NASA's Jet Propulsion Laboratory (JPL) in Pasadena, Calif., that used Disruption-Tolerant Networking (DTN) to transmit the images.
The DTN sends information using a method that differs from the normal Internet's Transmission-Control Protocol/Internet Protocol (TCP/IP) communication suite, which was codesigned by Cerf. NASA engineers began a monthlong series of demonstrations in October, transmitting data using NASA's Deep Space Network in twice-weekly demos.
"This is the first step in creating a totally new space communications capability, an interplanetary Internet," said Adrian Hooke, team lead and manager of space-networking architecture, technology and standards at NASA Headquarters in Washington.
Comm Time
To communicate across millions of miles, the Interplanetary Internet needs to be robust enough to withstand the delays, disruptions and disconnections that are inherent when relaying data through space.
"In space, things are different. There are delays," Jay Wyatt, manager of the Space Networking and Mission Automation Program Office at JPL, told TechNewsWorld. "The Internet was not designed to handle delays or significant disruptions in connectivity. The Internet assumes it has an end-to-end data path before it starts to send data. It assumes all the computers are connected. In space, if you're orbiting a planet and the spacecraft moves behind the planet you don't have a connection until the spacecraft come back around. That is what our technology is trying to deal with."
Unlike TCP/IP on Earth, DTN does not assume a continuous end-to-end connection, according to NASA. In its design, if a destination path cannot be found, the data packets are kept rather than discarded. Each network node maintains custody of the data for as long as necessary until it can safely communicate with another node. This means data can be sent without worry that it will be lost if an immediate path to the destination does not exist at that time.
"This is the first major step toward validating the DTN protocol for mission use. And it's significant in that it helps us move away from the way we do space operations now, which is kind of a point-to-point communication link from the antenna on Earth to the spacecraft directly, to moving more to an infrastructure for networking in the future," explained Wyatt.
To Infinity and Beyond
Eventually, the Interplanetary Internet will be capable of transmitting voice and video, but currently the data being sent is telemetry and instrument data — pictures and readings of the values of the instruments, he noted.
NASA plans another round of software testing on board the International Space Station beginning next summer. Within a few years, the Interplanetary Internet could enable new types of space missions, such as complex ventures involving multiple landed, mobile and orbiting spacecraft. Those missions will be easier to support as a result of the use of the Interplanetary Internet.
"Future human missions to the moon and Mars could use this," Wyatt pointed out.
The software could have Earthly applications as well — "Anywhere on the Earth you have frequent disruptions, you could use this," Wyatt concluded.