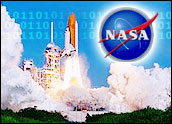 Before the space shuttle Columbia's disastrous mission in 2003, NASA did not fully recognize the safety risk posed by the shuttle's protective foam. Following that tragedy, however, NASA buckled down and set to work, trying to come up with solutions.
Part 1 of this two-part feature looks at the details of the space shuttle's external tank and thermal protection system (TPS). This part looks at NASA's response to its foam problems and the events that have followed.
"As soon as NASA saw the foam as a safety problem, it began to identify low-cost, high-benefit changes that could be made," John Pike, veteran space policy analyst and director of GlobalSecurity.org, told TechNewsWorld.
With a focus on areas of the external tank that required manual application of the foam — and thus were more subject to human fallibility — engineers reevaluated and optimized TPS designs and processes so as to reduce the risk of debris, NASA spokesperson Steve Roy said.
Process Redesigns
Some parts of the tank itself — such as the bipod closeout, flange closeouts and protuberance airload ramps — were actually redesigned. In all areas, process control was modified so as to insure defects were held in check and within tested configurations, Roy told TechNewsWorld.
Changes were made to simplify foam application whenever possible. Other changes included instituting high-fidelity mockups for practice sprays and detailed spray application instructions, as well as requiring video recordings of each spray. NASA also developed an electronic database to store information about each spray, from personnel certification documentation to the time the procedure was done.
NASA personnel are now required to practice the spray immediately prior to spraying and must have passed a certification test within 14 days of the spray.
Narrowing Focus
News that the August 2005 mission of the space shuttle Discovery had also experienced the shedding of a large chunk of foam — albeit without fatal consequences — underscored the serious nature of the problem, and work continued through this year's Endeavour launch and beyond.
"At a programmatic level, NASA has refined its foam debris requirements to ensure smaller and tested quantities of foam would be expected to be released as debris," Roy said. "Expected amounts of debris are identified, tested and analyzed through probabilistic risk assessment."
Removal of all debris is impossible, Roy stressed, but any pieces larger than a "couple of sugar cubes" pose a risk, so the goal has been to steadily decrease the expected sizes.
High-Tech Evaluation
Whereas most of the early redesigns solved the issues with larger chunks of foam, areas currently under focus are concerned with reducing foam masses roughly a hundred times smaller, Roy said. For example, work is under way to redesign and eventually eliminate the foam Ice/Frost ramps that cover metal brackets on the side of the external tank.
NASA's project office is also investigating nondestructive evaluation techniques such as backscatter radiography and terahertz imaging, both of which could offer an additional insight into foam application.
Other steps NASA could take include switching to a different foam, Paul Czysz, professor emeritus of aerospace engineering at St. Louis University, told TechNewsWorld.
"The ceramic foam TPS was a poor choice," Czysz said. "It makes the orbiter very vulnerable to foreign object damage and lacks durability. They ought to find the stickiest, toughest foam they can find and use it and forget about being 'green' — ask the Russians for their foam."
Inherent Risks
NASA now knows to monitor carefully for foam damage, but the shuttle's fundamental design means that some risks will remain inherent.
"The proximity of the orbiter to the tank means anything coming off of the tank can do lethal damage to the fragile foam and especially the leading edges," Czysz pointed out.
The risk of being struck by space debris is small by comparison, he added. "Mir was in orbit for 15 years and received no seriously damaging hit, while the shuttle is at risk to have a fatal hit on each and every launch."
Yet with the space shuttle slated for retirement in 2010, the cost-benefit case for further changes is a tricky one. "It's a very complicated problem, and they could spend an enormous amount of time and money solving it," Pike said. "But they'll only be flying this thing for another few years, and they don't have infinite funds. They have to pick and choose the problems they're going to solve."
Continuing Challenge
With work still to be done constructing the international space station and repairing the Hubble Space Telescope, the shuttle program's challenges are far from over.
"The best-case scenario is that they get the Japanese and European Lab modules installed and the Hubble repaired," Czysz said. "The worst case is we lose another shuttle."
The Hubble repair mission, slated for August 2008, may well pose the next big challenge, Harry Lambright, a space policy expert at the Maxwell School of Syracuse University, told TechNewsWorld.
The Next Big Test
"Since they won't have the space station as a safe haven, they will have to come up with a method for rescuing the astronauts if something goes wrong," he explained. "That will be the next big test."
The bottom line, however, is that the only time the space shuttle is safe is when it's in the hangar, Pike noted. That, in turn, is a good reminder of why astronauts get streets, parks and post offices named after them, he added.
"The odds of being killed are about 1 in 50," he said. "Being an astronaut is the most dangerous job there is."