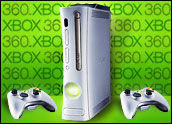 Netflix subscribers who also happen to own an Xbox 360 — and have an Xbox Live membership — learned last summer they'd be able to access streaming video via the gaming console, but what they didn't know until recently is that some of those titles will be available in high definition. Users of the Microsoft's gaming machine will see the feature when the console's "New Xbox Experience" launches Nov. 19.
The HD streaming feature is currently in a soft rollout, and Microsoft plans to formally announce the offering in a few weeks, Steve Swasey, vice president of marketing at Netflix, confirmed to TechNewsWorld.
Users who have attempted to download HD content to their computers often experience download times several times longer than the actual video they're trying to acquire. That won't be a problem with HD streaming, according to Swasey.
"[The streaming technology] is a different encoding for HD, but because it is not downloading but streaming, [users] just push play and it starts," he said.
About 300 high-definition movies will be available when Microsoft officially launches the service, added Swasey.
"As we're adding content to the site all the time, we will continue to add high-def content, but it's not the major emphasis because it is a small number in the total 12,000 [videos] available to stream," he said.
To use the service, Xbox Live subscribers will need to have a Netflix subscription other than the lowest-cost, US$5-per-month plan. Downloading the HD content, however, is available at no additional charge.
Another Step
News of the availability of HD content through its partnership with Microsoft comes just a week after the online DVD rental and streaming movie service announced a deal to stream content to certain Samsung Blu-ray players.
Netflix has also announced a similar joint venture with LG and teamed with Roku on a dedicated set-top box.
"Netflix has been on a roll. They realize that partnerships are integral in the connected world we live in today. The HD thing is really interesting. I can see a business model emerging in the long term where they charge for the streaming. It makes sense. It's a great value add," Joshua Martin, a Yankee Group analyst, told TechNewsWorld.
The important thing about the announcement is that Netflix has realized that if you want to be on the TV, you have to be in HD, Martin said.
"The challenge is not in getting to the TV but in getting enough content to make the service worthwhile and possibly charging for it. They have done an amazing job to acquire and partner with content owners to build their library," he noted.
The move is more of a symbolic victory, according to James McQuivey, a Forrester Research analyst. "For Netflix, the symbolic victory comes in being able to say it will be streaming HD-quality movies to the TV, something that a lot of cable companies charge much more for," he told TechNewsWorld.
A Place in the Living Room
For Microsoft, the added offering will give the Xbox 360 a greater foothold in the living room, a place it and rival Sony have long regarded as the promised land for their respective next-generation consoles.
"It finally elevates the device's chances of breaking through as a gaming machine to a home entertainment machine. When you add up how many people have watched videos on the Xbox 360 — Microsoft says it's about 30 percent of its 14 million [Xbox] Live customers, or more than 4 million people — that makes it more important than TiVo or the Apple TV in terms of the number of people it's reaching. So going this next step makes sense," McQuivey continued.
A step in the right direction, however, does not make it a game changer, said Elizabeth Curtis, an IDC analyst.
"It's great that there is more HD content available, and it's important that Netflix make HD content available, but this isn't a game changer. Xbox has had HD video content available for a while now, and while consumers seem to gravitate towards HD when given the option, right now it's more important to have a large library of premium video content rather than a large library of HD video content as consumers look to move content from the PC to the TV," she told TechNewsWorld.
That said, Curtis continued, it is important in that Netflix is focused on building out its online content library and looking to include HD content. The cost of the multiple services, however, could be enough to deter new users.
"Given the current economic situation, HD content from Netflix isn't a game changer. While it is a value add for consumers that currently own an Xbox console and have a Netflix subscription, I don't see this luring new consumers given the investment required for not only the gaming console — even with recent price drops — but also the Xbox Live membership and Netflix membership."