Apple on Wednesday held a mammoth two-hour event to introduce a long-awaited new Apple TV set-top box, a 12.9-inch iPad Pro, and the expected iPhone 6s and iPhone 6s Plus. Further, Apple announced new Apple Watch colors and bands, and a special collaboration with Hermes.
While the iPhone is clearly Apple's most important product, it's arguable that the Apple TV is its most important new addition.
Apple TV Gets an App Store, Remote and Siri
Apple CEO Tim Cook acknowledged that TV "plays a huge role in our lives" but noted that the experience hasn't changed much in decades.
"Today we are going to do something about that," he promised, adding that Apple's vision for TV is "simple and perhaps a little provocative. We believe the future of television is apps."
Cook then pointed out that 60 percent of pay streaming TV already is consumed on Apple devices — consumed through apps.
To deliver on its TV-app vision, Apple needed to deliver a new foundation for TV through powerful hardware, a modern OS, a new user experience, developer tools, and an App Store. "We've been working really hard — and really long," he joked, "to bring all of these things together."
The result is a new Apple TV set-top box with a shape that's similar to the previous-generation Apple TV, but about 10 millimeters taller. It will be available in late October at US$149 for a 32-GB model or $199 for a 64-GB model. Interestingly, it does not have the latest A9 Apple processor — it uses a 64-bit A8 processor that can stream 60 frames per second at 1080p.
The key innovation is a layered Apple tvOS that you can navigate via a new Bluetooth remote — aka Siri Remote — that includes a touch-sensitive section along with tactile buttons. There's a mike for using Siri to help you find videos, apps, and content from apps. You can even direct Siri to help out during playback.
For example, one feature lets you ask Siri what a character in a TV show said by asking something like, "What did she just say?" Siri will respond by rewinding the video 15 seconds and temporarily turn on captions.
Apple also added a new Apple Music app, which closely aligns with the new Apple Music experience with iTunes and iTunes Radio.
As for other kinds of content, namely live sports and games, the new Apple TV is enabling those living room experiences, too. With a new MLB.com At Bat app for Apple TV, customers can stream live games, view live data synced to the game broadcast, watch two games at the same time in split-screen mode, and easily navigate all of it through a combination of the new Apple TV remote and the app. NHL GameCenter Live will come next year.
What about games? Apple showed off a new Crossy Road multiplayer game, but it did not delve deeply into console-quality games. The company did not mention any specific new controllers, but the new Apple remote can be used as a controller for games.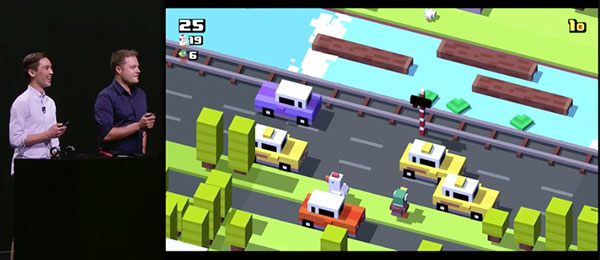 In one video clip, you could see the Siri Remote turned sideways to let someone play Asphalt 8, which is a racing game. (Incidentally, the Amazon Fire TV also can use the Amazon remote in a sideways orientation to play racing games.) The new Apple Siri Remote includes a built-in gyroscope, and it recharges via an Apple Lightning connector.
The New iPad Pro – With Keyboard and Pencil
Ever since Apple announced its enterprise app collaboration with IBM, rumors have persisted that it would come out with a larger iPad designed for work purposes, if not an outright laptop replacement. The Apple answer is a 12.9-inch iPad Pro that boasts 5.6 million pixels at 2732 x 2048 pixels, which is more pixels than are packed into the 15-inch MacBook Pro with Retina display.
"Watching movies on it is incredible," gushed Apple's Senior Vice President of Worldwide Marketing, Phil Schiller. "It's an amazing experience."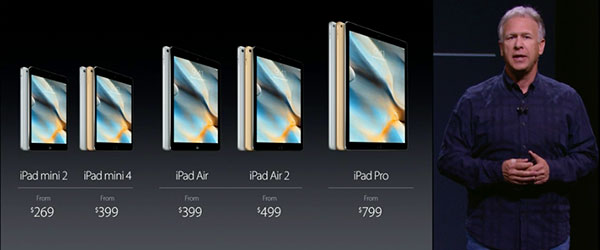 The iPad Pro is 1.8x faster than the iPad Air 2. "This is desktop-class performance," said Schiller. "Our chip team is just on fire."
The iPad Pro uses the new Apple A9X chip, which has twice as much memory bandwidth as the previous generation A8X chip, as well as storage performance that's twice as fast.
The iPad Pro is "faster than 80 percent of portable PCs shipped in the last 12 months," Schiller bragged, and when it comes to graphics tasks, it's faster than 90 percent of portable PCs shipped in the same time period.
With iMovie, the iPad Pro is capable of editing three streams of 4K video simultaneously, he also said.
For the first time in an iPad, the iPad Pro now includes four-speaker audio, which automatically senses orientation and adjusts how the iPad pumps out sound.
Interestingly, the iPad Pro has taken a page from the Microsoft Surface playbook. The new Apple tablet keyboard is now the Smart Keyboard, and it's an accessory for the iPad Pro. The keyboard is built into a cover that folds around to become a stand where the integrated keyboard connects to a new magnetic port on the side of the iPad Pro. (The keyboard uses the Apple dome switch that first appeared in the new MacBooks.)
Because enterprise apps might need new levels of precision, Apple also introduced a new stylus, called the "Apple Pencil." It uses orientation and senses force to create a variety of lines and styles of interaction, all the while communicating with the iPad Pro with the capability to select just a single tiny pixel.

With 5.6 million pixels on the iPad Pro, it's unclear how this precision might work with most humans, but Apple says you can do it.
To recharge the Apple Pencil, there is a built-in Lightning connector, chargeable through the iPad Pro's Lightning port.
The new iPad Pro comes in three models: 32 GB with WiFi for $799, 64 GB with WiFi for $949, and 128 GB with WiFi + Cellular for $1,079. The Smart Keyboard is $169, and the Apple Pencil is $99. All of it will ship in November.
With the iPad Pro, the iPad mini 2 now slides down to become Apple's entry-level tablet, starting at $269. Apple briefly mentioned a new iPad mini 4, which sports the processing power of the iPad Air 2 crammed into the iPad mini 4 form factor. It starts at $399. Apple will continue selling the iPad Air ($399+) as well as the iPad Air 2 ($499+).
The iPhone 6s and iPhone 6s Plus Get Force Touch
The new iPhone 6s and iPhone 6s Plus share the same basic form factor as the iPhone 6 and 6 Plus. Apple introduced a new Rose Gold color, as well as new, stronger glass, but the inside is where everything has been completely redesigned — primarily to support the new "3D Touch" interface formerly known as "Force Touch."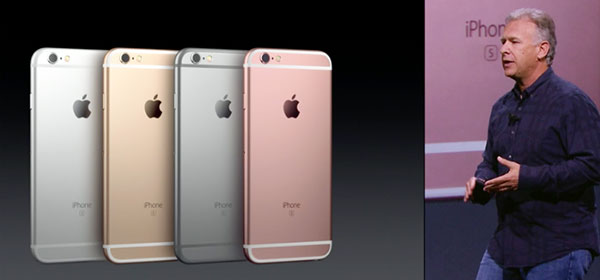 New user interface gestures supported by the new touch-sensitive screens include Peek and Pop, which are functions built into iOS 9 that also are available to developers. How do Peek and Pop work? If you see an element you want to learn more about — say a time in a text message — you can touch and hold the time, which will introduce a layer over the Messages app that lets you "peek" at your calendar. Press harder and you'll "pop" into the Calendar app.
In addition, 3D Touch allows for contextual menu commands throughout iOS 9 and within apps. For example, if you press and hold an app on the home screen, you could see a popup window that will let you launch into some specific portion of the app.
There are lots of other little improvements, too. For instance, Touch ID is twice as fast at recognizing prints. The motion coprocessor is built into the A9X chip and is always on. There is also a new Taptic Engine — like the one in the Apple Watch — that can provide haptic vibration feedback through iOS and apps that use it.
Perhaps most important to consumers will be the leap in camera tech. The new iPhone 6s series gets a 12-megapixel iSight camera (up from 8 megapixels). Plus, the iPhone 6s will shoot 4K video. The FaceTime selfie camera is 5 megapixels and uses a neat new trick of lighting up the whole iPhone screen as a high-intensity flash for low-light selfies.
Live Photos?
The coolest enhancement of the day may be the introduction of Live Photos. Basically, whenever you take a photo with the new iPhone, you'll record a 1.5 second video clip on either side of the shutter press. The photo acts like a single photo until you touch and hold it, which makes it briefly come alive in the tiny video-like clip.
In addition — and this looked amazing during the Apple event — when you're flipping through your photo library, your photos will shimmer alive with brief action as you navigate through them.
For people who love iPhone photos, this could be the key feature that will encourage early upgrades.
As it turns out, Apple almost offhandedly mentioned another thing that will help spark faster upgrades — a new iPhone Upgrade Program that's available through Apple Retail Stores, starting in the U.S.
Consumers can get a new unlocked iPhone each year, choose their own carriers, and get AppleCare+, all for a monthly fee that starts at $32, which is on par with the monthly charges that cellular service companies now levy for 24-month payment plans. This new plan, it turns out, is a pretty impressive move to help Apple control its most important customer engagements and keep them addicted to new iPhone tech.
Preorders begin on Sept. 12 with availability beginning Sept. 25. Existing iOS users can upgrade to iOS 9 on Sept. 16.
What About the Apple Watch?
Apple kicked off the event talking about the Apple Watch, but the updates — though important overall — were relatively small. Apple watchOS 2 will arrive as an update on Sept. 16, bringing third-party complications to Apple Watch faces. Developers will be able to offer apps that run natively on Apple Watch.
Apple also introduced new Gold and Rose Gold colors and a wide variety of new band colors and combinations, which Apple referred to as its "fall collection," borrowing from the fashion industry. More importantly, Apple introduced a new collaboration with Herms, introducing the Apple Watch Herms Collection.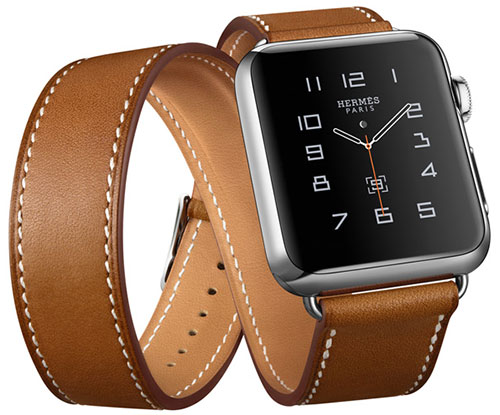 The new collection offers Apple Watch owners some cool — but spendy — leather bands and watch faces that deliver Herms style. It will be available starting Oct. 5.
One last element of note: Apple made its iCloud storage tiers slightly more appealing. Users can get 50 GB for $0.99/month, 200 GB for $2.99/month, or 1 TB for $9.99/month.