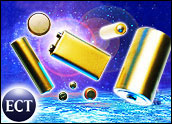 Lithium-ion battery maker Boston-Power and partner HP announced Wednesday the upcoming availability of Boston-Power's next-generation Sonata battery cell. The environmentally friendly and longer-lasting battery will be available as an upgrade option beginning in early 2009.
The first product released by Boston-Power, the Sonata provides "like-new" performance for three years. To back up that claim, the Sonata batteries will come with a three-year warranty — the longest available from any notebook manufacturer, the company said.
"This is the first invention the team worked on and basically it is able to charge and recharge 1,000 times compared to 150 to 250 times for traditional batteries, under normal conditions," Christina Lampe-Onnerud, founder and chief executive officer of Boston-Power, told TechNewsWorld.
Just Keeps Going
It is the Sonata's revolutionary design that enables the battery to offer users a lifespan up to 10 times longer than traditional lithium-ion batteries.
"It's basically the chemistry. I invite you from now on to think of a battery as a chemical factory where you have a lot of different chemicals that need to react. It is also a pretty major innovation around the mechanical design and the mechanical features of the cell. We have been very, very active on the application side, trying to understand how current and voltages are fed into the cells," Lampe-Onnerud explained.
Depending on the laptop model and how it is being used, the batteries should offer up to 2 hours and 45 minutes of battery power, she added.
Friend to the Environment
The Sonata batteries also represent an industry first, as they were built without any PVC plastics or heavy metals such as arsenic, cadmium or mercury.
"On the heavy metal, everyone could do that today. Arsenic, cadmium and mercury are used as a chemical shuttle in the space. Basically they take up weight and take up space and create side reactions. We came to this from a different style and said we'd also like to make this a pristine chemical electric engine, so only the materials you want to drive a chemical reaction should really have an opportunity to play in our system," she noted.
The battery has received environmental accreditation from the Nordic Ecolabel as well as the Chinese Environmental Protection Agency.
A Little More Expensive
Most laptop owners replace their batteries several times over the life span of their device. No pricing has been announced for the Sonata batteries; however, Lampe-Onnerud said that laptop batteries typically cost US$100 but that the additional cost will most likely be below $40.
"HP is the right source to ask about pricing, but I think consumers will be thrilled with the price," she added.