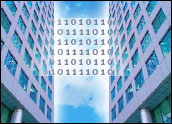 Against the backdrop of the 3GSM World Congress wireless trade show in Barcelona, Spain, Research In Motion on Monday unveiled the latest in its BlackBerry line of e-mail phone devices.
The BlackBerry 8800 smartphone is the slimmest BlackBerry yet, and comes equipped with a variety of consumer-style features familiar to many from the BlackBerry Pearl, such as a trackball for navigation. The device also features a full QWERTY keyboard, a built-in global positioning system (GPS), multimedia functions and a microSD expandable memory slot.
Thin and Thinner
The device supports voice and data applications, including phone, e-mail, text messaging, Web browsing, an organizer and multimedia applications. It features a high resolution, 320 x 240 landscape display and an ultra-thin, high-capacity battery. It will be available later this month through AT&T's Cingular Wireless for US$299.99 with a two-year contract.
"The BlackBerry 8800 is optimized to satisfy the most demanding mobile professionals with its thin profile, premium finish, full-featured phone and best-in-class application performance," said Mike Lazaridis, president and co-CEO at RIM. "AT&T's BlackBerry users will also be pleased to see a range of new features available with this full keyboard handset."
A Significant Improvement
"The 8800 is a significant hardware transformation," Chris Hazelton, senior analyst for mobile device technology and trends at IDC Research, told TechNewsWorld. "It's very thin, it has a great screen, and also a GPS, which is becoming increasingly important."
RIM's BlackBerry line has traditionally been aimed at corporate users, and even the Pearl — which is more consumer-focused, with its built-in camera — is still used primarily by enterprise professionals, Hazelton said. The 8800 is no exception, he added, and is aimed squarely at users in corporations.
"With its $300 price, this is still a professional business person's kind of device," wireless analyst Neil Strother agreed.
iPhone Competition?
Nevertheless, the new 8800 may be part of a foray by RIM into the consumer realm. "I think this is further evidence that companies like RIM see smartphones expanding into the high end of the consumer market," Ira Brodsky, president of Datacomm Research, told TechNewsWorld. "These features sound more consumer-oriented" than what would be included in a product aimed at the enterprise.
If RIM is beginning to target consumers, one can't help but wonder if it is positioning the BlackBerry 8800 to compete with Apple's yet-to-be-released iPhone. On the surface, its multimedia features make it comparable to Apple's well-hyped device, though it doesn't include the touch-screen features of the iPhone.
Focus on Push E-Mail
Then again, that may not be a problem. "Some people don't like touch screens, especially if they're used to one-handed operation," Strother told TechNewWorld. "I think it does compete, but there will be enough people out there who will want each." The 8800's pricing scheme looks cheaper than what was announced for the iPhone, Strother added.
Of course, for corporate users, the iPhone is unlikely to be a realistic option, since it won't tie into corporate push e-mail systems the way BlackBerry devices do. "The driver for enterprise adoption is push e-mail," Hazelton noted, "so I really don't see the iPhone penetrating the enterprise market."
"In this wireless market where a billion phones are sold, there will obviously continue to be market fragmentation with lots of different handset choices for consumers, but the iPhone doesn't appear to be designed to compete in the same arena as BlackBerry," Mark Guibert, a spokesperson for RIM, told TechNewsWorld.