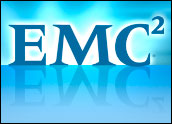 EMC announced a new line of deduplicating backup storage products this week at its annual EMC World conference held in Las Vegas.
In addition to deduplication, the new offerings include disk drive spin down and low-power disk drive technologies, all of which are meant to lower the cost for businesses to use disk-based backups rather than tape.
"The announcement is pretty significant because data in companies of all sizes is growing unabated," said Lauren Whitehouse, an analyst at Enterprise Strategy Group.
"It may also save companies time in the backup and recovery process because they can back up to disk rather than tape media — disk is faster than tape. What's different about EMC's approach is that it is offering deduplication technology in several ways to accommodate the varying technical, budget and performance requirements of companies," Whitehouse continued.
The new line includes the EMC Disk Library 3D 1500 and 3000, EMC Disk Library 4000 and the EMC Avamar Data Store Gen 2 and EMC Avamar 4.0, as well as EMC NetWorker Fast Start, a simplified version of EMC's backup software.
Don't Get Duped
Deduplication is a feature that allows IT departments to better optimize the use of storage, explained Neomi Greyzdorf, an IDC analyst.
Aimed at enterprises and medium-sized businesses, the technology's value proposition capitalizes on the recent surge in the usage of disk-based storage systems for backup. Despite the decreasing prices in the cost per gigabyte and advances in SATA (Serial Advanced Technology Attachment) drive and density technologies, it can still be a considerable expense for companies to store large quantities of backup data, she continued.
"Let's say you have a 1-terabyte set of data you're going to back up. Let's say you're going to run incremental during the week and do a full back up at the end of the week. So you're going to have 1 terabyte, plus all the incremental, and your retention for that backup is three months. So every week you're going to add another 1,200 gigs, or less than 1 terabyte and a half, to your backup system," she hypothesized.
Writing that amount of data to disk over the course of three months will get very expensive and does not take into account the power and heat consumption and the carbon footprint of the storage system, Greyzdorf told TechNewsWorld.
With EMC's addition of the virtual tape library (VTL) interface, it solved critical issues such as the ability to position additional capacity on the fly for the backup system, sharing the backup across multiple media servers, running backup over the SANs (storage area networks) successfully for performance purposes.
"By adding deduplication, they are increasing how much data can be stored on the same amount of disk. … Say for text files or databases, a certain percentage will be repeated with the same data backed up week after week because, let's say, 70 percent is static and remains unchanged week after week," Greyzdorf said.
Deduplication looks at the stream of data and identifies data identical to previously saved data. Instead of writing it to save again, it creates pointers so that it only keeps a single instance of a given data set.
"You reduce the footprint of the backup. So now that 1 terabyte might have significant commonality in its dataset plus, week after week, it will have a significant amount of commonalities and eliminate the need to write it to disk, and allowing you to store more data and store more data on disk longer. It's really an optimization technology," she stated.
No Redundant Data Here
The EMC Disk Library 3D 1500 and 3000 are new local area network (LAN) backup-to-disk systems for midsized businesses. They feature policy-based data deduplicated backup, EMC five-9s storage platform and IP replication to help customers ensure availability, reduce the amount of backup data and meet off-site protection requirements without physically transporting tapes, EMC said.
The units take advantage of Quantum's deduplication technology and fill the gap in the product line by supporting IP-based environments — although they also support SAN/FC VTL too, said Whitehouse.
"Deduplication is policy based — "always on," "always off" or scheduled — sometime after backup completes. This provides flexibility for IT organizations to perform data deduplication "inline" as data is ingested or "post-process" after data is written to disk to meet the desired performance or capacity requirements," she noted.
The DL3D can be combined with Networker backup to dedupe at the target storage in lieu of using the Networker Avamar option, which dedupes at the data source, according to Whitehouse.
Disk Library 4000 is an EMC SAN-based VTL backup storage system. In addition to deduplication, the system's features include spin down and low-power disk drives to reduce power and cooking by up to 47 percent.
"EMC also added a unique feature in the open systems VTL space — disk spin down — to mimic the power characteristics of a tape environment. Inactive disks are placed in sleep mode and spin up on demand, which saves in power and cooling and closes the price gap between disk and tape," Whitehouse pointed out.
The EMC Avamar Data Store Gen 2 system, EMC's next generation backup and recovery tool, features global source-based data deduplication technology to provide businesses with a variety of new scale and support features such as a two-fold increase in backup capacity per system.
Customers will use up to 43 percent less energy per terabyte backed up, according to the company. The system reduces the cost of ownership by as much as 25 percent compared to the previous generation and up to 75 percent over tape-based solutions, EMC said.
The storage and recovery system runs EMC's new Avamar 4.0 software, which inspects the data for duplicates globally at the source — before data is transferred — to ensure that only unique data segments are sent and stored to disk.
Version 4.0 includes expanded client support for SQL 2005, Windows Vista, NetWare 6.5 and SLES 10, expanded server support for 64-bit Red Hat and multi-CPU (central processing unit) systems, as well as other usability and management capabilities.
"[It] helps end users use fewer nodes, lowering the cost per GB and reducing power consumption. Avamar Data Storage is an all-in-one preconfigured software and hardware solution that includes v4.0 Avamar data deduplication backup and recovery software," Whitehouse noted.