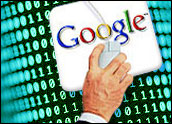 Search online for a particular type of image today, and the results will reflect more or less exclusively the text that's associated with them. A new technology presented by two Google researchers last week, however, promises to use visual cues in the images themselves to rank their relevance.
In a paper titled "PageRank for Product Image Search," Google researchers Yushi Jing and Shumeet Baluja presented VisualRank, a technology much like Google's PageRank system for prioritizing Web page search results but that provides a visually based ranking of images instead.
They tested VisualRank in a series of experiments retrieving images for 2,000 of the most popular products queries, including "iPod" and "Xbox." Their results showed a dramatic improvement over those obtained using text-based searches, they said.
Jing and Baluja presented their paper at the WWW2008 conference in Beijing last Thursday.
Thorny Problem
How to make image searches based as closely as possible on qualities of the images themselves is a challenge that has long dogged computer science researchers. Images that might be easy for humans to recognize, identify and classify into groups are much more difficult for computers to understand in the same way.
The exponential growth in both the number of images out there today as well as their sheer size is further compounding the problem, the researchers noted.
In their paper, Jing and Baluja propose a way to create graphs of inferred visual similarity for a group of images. To determine which images are most relevant to a query, they analyze what they call "authority" nodes through an iterative procedure — much like in PageRank computations — that assigns a numerical weight to each image, representing its relative importance to the other images being considered.
"Google is constantly innovating to provide users with the most relevant results possible, and Image Search is no exception," the company said. "We are very excited about the VisualRank technology. It marks an important step forward in integrating many novel machine-learning, statistical and computer-vision approaches towards providing better image search results to our users."
Strategic Area
Image search is a "hugely popular" subcategory of search, so working to improve it makes strategic sense for Google, Greg Sterling, founder and principal analyst with Sterling Market Intelligence, told TechNewsWorld.
Images also pop up with increasing frequency in general search results, he added, so making them as relevant to the query as possible is becoming more important.
Microsoft has been trying to make its own Live Search offering more competitive, while Yahoo has the benefit of Flickr, Sterling noted. Though not so much a factor in relevance, "just having those images available" is a boon for Yahoo, he said.
"To the extent that Google can develop a better image search, it will continue to advance its cause as a property generally," Sterling commented.
Merchandising Implications
VisualRank technology could have implications for marketers and advertisers in the area of e-commerce merchandising, Andrew Frank, a research vice president with Gartner, told TechNewsWorld.
A prime example might be in the commonly used "More Products Like This" type of link included on many shopping pages, he noted.
"The first thing I thought of was a better way of showcasing 'soft goods' types of merchandise — luxury goods, apparel and things like that," Frank explained.
Peek Into Google's DNA
As a first-order search technology like PageRank, on the other hand, "I have more difficulty imagining people using it as the first step in a product search," Frank added. "I could more easily see advertisers creating a custom widget that's a showcase of their merchandise."
Either way, the fact that Google is tackling the problem at all is remarkable, he noted.
"Computer vision and image recognition are classic hard computer science problems, so this is another peek into the DNA of Google as a company with computer science at its core," he explained. "They like to take on these kinds of problems."