HTC on Friday unveiled the Touch Cruise, a handset featuring built-in GPS and accompanying software. The new smartphone, an update to a similarly named HTC device released in January 2008, offers consumers a more compact form factor as well as new features.
The handset is the first to include a new photograph-tagging application from HTC, called "Footprints." The program enables owners who take pictures using the device's 3.2-megapixel camera to then add notes and audio clips while automatically identifying the photo's specific geographical location.
"Just as we have seen GPS technology transform how people navigate to new places, we are now seeing location-based applications like HTC Footprints changing how we interact and carry our memories," said Peter Chou, president and CEO of HTC.
Fitting the Niche
In addition to identifying each snapshot with its specific GPS coordinates, Footprint also auto-names each picture with its general location or area.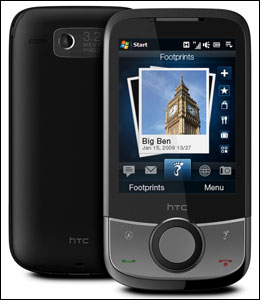 Once it's time for show-and-tell, users can relive their travels photo-by-photo with the geo-tracking program, whether the pictures were taken indoors or outside, said HTC.
The Touch Cruise also doubles as an in-car navigation system when docked in the accompanying car cradle. Users will receive turn-by-turn directions displayed on the handset's 2.8-inch QVGA touchscreen. With HTC's TouchFLO technology, that means users can access their phone, contacts, e-mail, messaging, calendar and GPS apps with a simple touch.
The handset also features a 512 MB flash ROM and 256 MB of RAM as well as an expandable microSD slot. In addition, the handset has Bluetooth and WiFi support and runs Microsoft's Windows Mobile 6.1 Professional operating system. This enables users to view Word, Excel, PowerPoint and PDF files on the device.
Consumers will be able to cruise the Web, download e-mail and send instant messages as well with the Touch Cruise using the EDGE or HSDPA 3G networks.
Segmenting the Market
The Touch Cruise will be available in markets around the world in spring 2009 and will reportedly sell for US$500 to $600.
Consumers might expect to see a decline in the amount of niche devices offered by handset makers as the global economic crisis continues to deepen, but that's just not the case, said Charles Golvin, an analyst at Forrester Research.
"In fact I see it just the opposite: As the mobile market matures along with the knowledge and demands of consumers, it will be more important to segment the market and target devices to particular needs," he told TechNewsWorld.