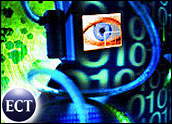 Microsoft on Wednesday launched a new technology and service called "Photosynth." The system, currently available to users through a Web site, uses multiple snapshots of a scene to create a seemingly 3-D representation.
Careful using it, though — any image "synthed" by users on the demo site becomes viewable to anyone.
In the works at Microsoft Live Labs since 2006, the technology makes it possible for anyone with a digital camera, PC and a broadband connection to create 3-D scenes from a collection of standard, one-dimensional photographs, according to Microsoft.
"Photosynth is is very creative, technically very good. This is a hard problem to do on an ordinary PC in reasonable time. Reconstructing 3-D environments is likely to be important in lots of ways, such as medicine, construction, various sciences as well as the publicized use for travel and scene sharing," Don Retallack, a lead analyst at Directions on Microsoft, told TechNewsWorld.
Moving Pictures
Photosynth is an amalgamation of technology Microsoft acquired in 2006 when it purchased Seadragon, a Seattle area startup, and a prototype from Microsoft Research originally called "photo tourism."
From Seadragon came technology capable of delivering a smooth experience browsing large quantities of visual information over the Internet, Microsoft said. At the same time, researchers Noah Snavely, Steve Seitz and Richard Szeliski were trying to find a solution that would take a few dozen or few hundred photos of a place and use them to reconstruct a 3-D model of the scene.
The computer vision techniques developed as the researchers pursued that goal are the basis of Photosynth. Combined, the tools form the foundation for Photosynth, which takes large amounts of visual data to create 3-D environments.
Photosynth fuses together a batch of photos taken of a place or thing. The technology recognizes minute details in each individual photo, such as patterns and shadows, and places each image in the proper perspective and proportion relative to the other photos in the group.
Using Photosynth businesses can enhance their Web sites and marketing and advertising campaigns, Microsoft said, while consumers, for example, can recreate a favorite vacation moment and share it with others.
Currently, Mac users are shut out of the technology, as it is only available for PC users. In addition, users of the site should be aware that any synthed image will be publicly available on the site.
"It appears that Photosynth does a good job in matching brightness and color as well as getting the pixels to line up," said Retallack, but he added that requiring synths to be public is not something likely to last very long.
"Many people want to control the things they share," he pointed out.
Photography 2.0
With Photosynth Microsoft has shown that it understands the way people want to use photography and technology in general to capture and share different experiences with social groups, said Ben Bajarin, a principal analyst at Creative Strategies.
"The photo experience has been such a one-dimensional, here's-a-photo-take-a-look-at-it [experience], as opposed to really being able to tell a story easily, to really share all the experiences you want to share revolving around that story, vacation or moment. Addressing that need for consumers is obviously a huge step forward in some of the ways they're using Photosynth to do that," he told TechNewsWorld.
Being able to move around the photo is a good start, but the innovation needs to go down the path of how consumers can tell a story to truly communicate their experience, Bajarin continued.
"It is a good first step, but it's not all the way there to create a visual storytelling experience around a moment. The more [Microsoft] uses the technology around other things they are working on — photo editing, video editing — there is work to be done, but they are headed down the right path," he said.