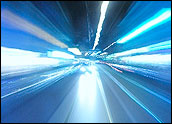 The USB 3.0 Promoter Group has finalized specifications for the next-generation transfer technology. The completion of the roadmap for USB 3.0 means the technology is now ready for device manufacturers to bring the so-called SuperSpeed USB technology to the market.
"The finalization of the specification is very significant and has been anticipated in the industry since work on the specification was announced a little over a year ago," said Jeff Ravencraft, USB-IF president and chairman.
With more than 6 billion USB-enabled devices deployed in the market today among a wide range of PC, mobile and consumer electronic devices, it's reasonable to assume the next generation of USB will be put to use in many of these existing applications as well as new applications that will be enabled by SuperSpeed USB, he told TechNewsWorld.
"The finalization of the USB 3.0 specification means that any manufacturer or software company can now download the spec and begin designing and building to it," Ravencraft continued.
Getting Zippy With It
USB 3.0 will replace the USB 2.0 specification that was released in April 2000 and standardized by the USB-IF in late 2001.
Compared to the previous standard, at up to 5 gigabytes per second, SuperSpeed USB will offer a speed improvement of up to 10 times over USB 2.0, said Brian O'Rourke, an analyst at InStat.
In other words, whereas transferring a 25 GB high-definition movie file took 14 minutes using USB 2.0, with the new version, it will take an estimated 70 seconds, explained Ravencraft. The technology also features improved power efficiencies. It provides the capability for devices to draw additional power for quicker battery charging of portable devices — advancements in power efficiency will translate to improved battery life for end users.
"USB 3.0 also will require less power than previous versions of USB, so it may be attractive in portable consumer devices, including digital camcorders, digital still cameras, portable media players, and possibly media-centric mobile phones," O'Rourke told TechNewsWorld.
Three Dot Oh
The USB 3.0 Promoter Group — a consortium of technology companies including HP, Intel, Microsoft, NEC, ST-NXP Wireless and Texas Instruments — officially formed and announced its intent to develop a new specification in September of 2007.
Two months later, the organization issued a call for contributors and device manufacturers to join the new standard. Since that time more than 200 companies have stepped in.
"We believe the ability to move large amounts of data quickly will enhance the way consumers interact with their digital content. For example, with SuperSpeed USB users will be able to move HD content easily, sync devices in seconds rather than minutes or hours," he explained.
The initial target markets for USB 3.0 will be PCs and devices that connect to the PC that require high-speed data transfers, including external hard disk drives and DVD players and recorders, according to O'Rourke.
"USB 3.0 will be backwards-compatible with previous versions of USB, so it will be able to connect to the billions of USB devices that are already out there. The challenge for USB 3.0 will be to become as widely available as USB 2.0, which is entrenched in PCs, PC peripherals, consumer electronic devices, mobile phones and other applications," O'Rourke concluded.