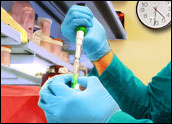 Researchers at Advanced Cell Technology have successfully created human embryonic stem cell lines without destroying human embryos.
The new technique, published in a report Thursday in the journal Cell Stem Cell, involves removing single cells from embryos using a technique similar to preimplantation genetic diagnosis (PGD), a procedure already used to determine if embryos carry harmful genetic mutations. The researchers then transformed each cell into a line of embryonic stem cells by exposing them to a combination of chemical factors that re-create the optimal developmental environment.
The technique was initially carried out by Advanced Cell Technology scientists under the direction of Dr. Robert Lanza and then independently replicated by scientists on the West Coast.
"This is a working technology that exists here and now," said Lanza, who is chief scientific officer at Advanced Cell Technology and senior author of the paper. "It could be used to increase the number of stem cell lines available to federal researchers immediately. We could send these cells out to researchers tomorrow."
Ethical Questions
Stem cells are created in the first days after conception and are collected from leftover frozen embryos that result from in vitro fertilization at fertility clinics; traditionally, the embryos have been destroyed in the collection process.
Because they can differentiate into virtually any cell in the body, embryonic stem cells are thought to hold the potential to alleviate many degenerative diseases while avoiding rejection by the patient's immune system.
Under current legislation, however, federally funded scientists can conduct research on embryonic stem cells only if the cells were derived before 9 p.m. on Aug. 9, 2001. The result is that there have been very few lines to work with.
The ethics of using human embryonic stem cells has also been hotly debated. President Bush has repeatedly vetoed legislation aimed at easing stem cell restrictions, advocating the use of adult stem cells instead. Scientists, however, have argued that adult stem cells don't have nearly the same potential.
Because it doesn't destroy the embryos, the new technique may stand a better chance of achieving federal and mainstream acceptance.
Concerns Addressed
"This new approach addresses President Bush's ethical concerns," said William M. Caldwell IV, chairman and CEO of Advanced Cell Technology. "We are hopeful that the National Institutes of Health will consider this new approach for federal funding. We believe that such consideration reflects the desire of the American people to bring therapies derived from stem cell research to patients with few or no alternatives."
Indeed, "the president has the ability to release these today, if he wants to," Lanza told TechNewsWorld. "My hope is that he'll realize that this works and can help save lives."
With the new technology, the number of stem cell lines available for researchers could be doubled or even tripled in just a few months, Lanza said.
'A Greater Level of Comfort'
By addressing many of the ethical questions associated with stem cell research, the new technique could also make deep-pocketed pharmaceutical companies more willing to fund the resulting clinical trials, he added, which are a critical step on the road to new treatments.
"Clinical trials are very expensive, costing over (US)$100 million a year," Lanza explained. "Pharmaceutical companies are among the only ones who could fund them, but they've been reluctant to step into this controversial area. This could create a much greater level of comfort."
Whether, in fact, that greater comfort level will be achieved, however, is still far from clear.
No Harm Done?
"They didn't destroy most of the embryos, but some didn't go on and grow," David Prentice, senior fellow for life sciences at the Family Research Council, told TechNewsWorld. "Just because the embryos went on and divided a few more times doesn't mean there wasn't any harm done to them."
In fact, "several recent reports indicate that in PGD there is some harm done to the embryo," he pointed out.
In order to prove that no harm was done, the embryos would have to be implanted and allowed to develop until birth — a step few would be willing to take given the many associated ethical questions, Prentice noted.
Meanwhile, under the Dickey Amendment, federal funding would require not just that the embryos not be destroyed, but also that they not be subjected to the risk of harm or injury, he noted. "This definitely doesn't meet that," Prentice said.
'Still Dangerous'
"These guys think they have a breakthrough, but it's not really one because they're still using some kinds of parts of the embryo," Joe Scheidler, national director of the Pro-Life Action League, told TechNewsWorld. "It's still human experimentation, and that still bothers me."
The research shows that scientists are "trying" to come up with alternatives, but "I'm still not happy with it," Scheidler concluded. "Experimenting on a person without their consent is not acceptable. I think it's still dangerous."