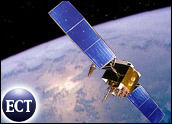 TomTom unveiled a new top of the line in its GPS (Global Positioning System) product set Thursday featuring the addition of voice recognition.
The TomTom GO 920 T global positioning system comes preinstalled with complete maps of Europe, the United States and Canada on 4 GB of internal memory, and it includes new enhanced positioning technology for a more continuous navigation experience. It will be available in the fourth quarter of 2007 at a retail price of US$699.95.
Thanks to speech recognition, users can speak address information and receive directions in return.
"The new flagship TomTom GO 920 T offers the best in satellite navigation," said Harold Goddijn, chief executive officer at the company.
"Preinstalled maps of multiple continents combined with innovative technologies such as the new enhanced positioning technology, TomTom Map Share and plug & play traffic information offer outstanding quality and performance," Goddijn said. "The TomTom GO 920 T is the most advanced navigation solution on the market today."
Leaping Over Tall Buildings
TomTom's new enhanced positioning technology uses movement and gravity sensors to calculate drivers' positions when GPS signals are unavailable because there is no direct line-of-sight connection to a satellite, such as when driving in a city with tall buildings, underpasses or bridges.
Its Map Share technology, meanwhile, makes it easy to adjust maps and share corrections with other TomTom customers so that users always have the most up-to-date information available.
An RDS-TMC (traffic message channel) Traffic Receiver provides up-to-date traffic information, while an improved Bluetooth remote control lets drivers operate their device safely from anywhere in the car without having to reach to touch the screen.
With a 4.3-inch touch screen, extensive safety features and a built-in FM transmitter, the TomTom GO 920 T replaces the current TomTom GO 910. It will be available in the last quarter of 2007.
A New Entry Level
Also this week, TomTom debuted in the United Kingdom the entry-level TomTom ONE 3rd Edition, which comes with Map Share technology and an optional RDS-TMC traffic antenna. Also featuring TomTom's patented touch-screen technology and award-winning software, the TomTom ONE 3rd Edition features a sleek, lightweight design and is ultra compact so that users can carry it to and from their cars.
"The New TomTom ONE 3rd Edition is the answer for drivers who want a personal navigation device that is easy to use, has the latest maps and technologies and is affordable," said Goddijn. "With this introduction, we are offering customers a new entry-level navigation device of even higher quality."
The device is available immediately. Pricing is about $300 for a regional version and $360 for a European version.
'The Ultimate Human-Machine Interface'
"We call voice recognition the ultimate human-machine interface," Mark Fitzgerald, an analyst at Strategy Analytics, told TechNewsWorld. "For automotive purposes, it beats the switches, buttons and touch screens typically used today because it's much less distracting. The key thing is that you don't want people staring at the device while in motion."
One key to the success of such technology, though, is that it "has to work right out of the box," Fitzgerald added. "Older systems had key commands and had to be trained by operators, but most consumers today won't want to take the time to sit down and program it."
'The Next Natural Step'
"Voice command is the natural next step for all navigation systems," agreed Michael Ippoliti, research director for telematics and automotive at ABI Research. "Driver distraction is a real problem, and it only makes sense for complicated interfaces like navigation devices to use voice."
With voice recognition, however, "the devil is in the details," Ippoliti told TechNewsWorld. "Some systems are surprisingly good; others are horrible. How accurate and usable the TomTom voice command software will be is the real question."