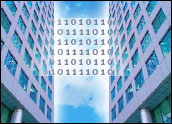 A growing number of consumers are walking around with a cell phone for voice communications and a laptop for data connections. Soon, that may no longer be necessary, as handset vendors are delivering new devices and carriers are rolling out new services that support both cellular and WiFi connections.
With handsets gaining more capabilities and cell networks supplying more bandwidth for data, integrating the two is now possible, and that should benefit many users in the future. "Convenience is a major issue and most users would prefer to work with one device rather than three or four," said Craig Mathias, principal at market research firm Farpoint Group. Another plus is that users will be able to move from outside to inside — and vice versa — without experiencing dropped calls.
In addition, there are potential cost savings, especially for businesses. In certain cases, intra-company cell phone calls account for 50 percent or more of their monthly cellular expenses. By offloading those calls to a WiFi network, corporations can lower their operating costs.
Solving Coverage Problems
Integrating WiFi and cellular networks could benefit telecommunications service providers in several ways as well. "Carriers understand that the industry is moving to Voice over Internet Protocol (VoIP) and they want to be part of that change," said Allen Nogee, an analyst with market research group In-Stat/MDR. Coverage problems sometimes arise in large buildings or areas that are out of range of local cellular towers, for example; WiFi connections could provide the local link to keep customers on the carrier's service.
The new services also have the potential to help carriers' bottom lines. Operators that bundle WiFi with cellular services could win over new consumers or do a better job of retaining existing customers, and thereby lower their churn rates. Rather than offer this service as standard fare, they can package WiFi-cellular integration as a value-added service, one that customers will pay extra for to use.
Carriers may also be able cut their operating costs. Cellular bandwidth is expensive and often difficult to maintain; WiFi networks are cheaper and easier to install and maintain.
Few Options at the Moment
There are challenges in delivering these new converged services, however. One of those challenges is that there are not a lot of integrated handheld devices available at the moment. "I would say there are maybe a few dozen cellular/WiFi systems now available," In-Stat's Nogee told TechNewsWorld. Hewlett-Packard, Nokia, Motorola and Samsung have been working on such devices, but by no means are these devices mainstream just yet.
A technical challenge for handsets is that WiFi tends to drain batteries. Mobile operators may be reluctant to encourage consumers to use handsets that might konk out after too many WiFi calls so that they would not be able to work over their mobile networks. Chipset manufacturers such as Atheros, Broadcom and Qualcomm are currently working on solutions to these types of problems.
In addition, currently, there are no standards available for how devices should handle such issues. The Institute of Electrical and Electronics Engineers has begun working on the 802.11U standard for these integrated networks, but a few years will pass before that work will be integrated into commercial products. The lack of standards along with the low number devices shipping means that the new dual mode devices on the market now come with high price tags, ranging from US$400 to $600.
Hurdles Abound
Network issues present additional hurdles. WiFi coverage is a bit spotty today, for instance. Most WiFi service providers deliver service only in areas with high volumes of business and consumer users.
Cellular carriers and hot spot specialists are teaming up to expand coverage of their WiFi networks to address this issue. Vonage Holdings (NYSE: VG), for example, allows users to place VoIP calls wirelessly, either through its home WiFi access point, or, in partnership with Boingo Wireless, which operates hotspots worldwide.
As they link WiFi and cellular networks, carriers have to address quality of service (QoS) issues, which center on sound clarity. "While VoIP services are gaining acceptance, these calls are not as clear as those on other networks," noted Neil Strother, an industry analyst with market research firm The NPD Group.
Engineers have determined that latency on a wireless connection cannot be greater than 50 milliseconds, so WiFi and cellular carriers have designed their networks to accommodate that guideline. Since switching a call from a WiFi access point to a cellular one can take hundreds of milliseconds presently, it is uncertain at this point how calls on the new integrated networks will sound.
Dividing Up the Pie
A slew of back-office questions also remain. As users roam from cellular networks to WiFi links, one carrier gains minutes and another one loses minutes. In some cases, carriers such as T-Mobile encourage users to rely on their cellular and WiFi services. In other services, joint agreements have been forged between cellular and WiFi service suppliers, and the systems for charging customers and for how carriers will compensate one another are among points that have yet to be clarified.
Meanwhile, some alternative technologies promise similar capabilities. "A number of carriers view WiMax, rather than WiFi, as the natural supplement to their cellular services," Farpoint Group's Mathias told TechNewsWorld.
The various players are now attacking the myriad issues, however, the timeline for adoption of combined WiFi-cellular technology is still unclear.