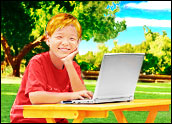 MTV Networks' Nickelodeon Kids and Family Group will drop a cool US$100 million into its online casual games venture, the Viacom business unit announced Wednesday at the Casual Connect gaming conference in Seattle.
"Across all of MTVN's online sites, gaming is an important original genre and we are committed to delivering fresh content to our audiences in all of our demos," said Cyma Zarghami, president of Nickelodeon Kids and Family Group.
"Particularly in the kids' space, with more than 86 percent of kids eight to 14 gaming online, we see great momentum for online casual gaming. This investment will not only benefit our audiences, but also our marketing and distribution partners," she noted.
Casual But Big
Twenty-five percent of Web users frequent gaming sites, and the number of unique visitors to online gaming sites has reached close to 217 million, up 17 percent over last year, according to a recent Comscore World Metrix study on Web sites offering online or downloadable games. The average online gamer visits a gaming site nine times in one month.
"Casual gaming is already the biggest category of gaming," Van Baker, a Gartner analyst, told TechNewsWorld.
"There are more casual gamers than any other gamers, including those for hardcore PC games and console games. It's a very different demographic, primarily females in their late twenties and early thirties … [but] anyone who is going on the Internet regularly is likely to play casual games at some point in time, and kids are certainly a big segment of that," he explained.
What You Can Buy With $100 Million
Casual games are typically Web-based, simple and not very graphics-intensive. How far can Nickelodeon get with a $100 million?
"It can get them quite a bit," Baker noted. "Online games can be very inexpensive to create — literally, a few thousand dollars can get them something playable, and obviously they can spend significantly more than that, but it's nowhere near the cost of developing a console or PC title."
Big Plans
The company outlined an ambitious plan to blanket most of the market. Over the next two years, Nickelodeon is launching several initiatives:
myNOGGIN: myNOGGIN is a subscription service where preschoolers can play educational games and parents can track their progress.
Nick.com/Nicktropolis Multiplayer Games/Tournaments: Nick.com will expand its existing gaming franchise, New Game of the Week, giving it a multiplayer focus.
Nick Gaming Club: Nickelodeon's first ever subscription offering, Nick Gaming Club will be a safe gaming environment featuring multiplayer games, 3-D avatars and community features. It will include games based on Nickelodeon properties as well as others. The Nick Gaming Club will launch in first quarter 2008.
The-NGames.com: Launching in early 2008, The-NGames.com will focus on teen girls. The-N.com, which previously focused on social games for teen girls with games like "Slasher," "Avatar Mall" and others, will partner with AddictingGames to produce this new site.
AddictingGames and AddictingWorlds: AddictingGames' offerings will be expanded to include casual MMOGs (massively multiplayer online games) with the introduction of AddictingWorlds, a way to introduce a variety of virtual worlds to the AddictingGames' audience.
Shockwave: Shockwave will become the games destination for families.
NeoStudios: Neopets.com will be transformed into Neostudios, which will focus on developing new virtual world gaming experiences online, while continuing to grow and evolve the existing ones.
More than 200 million people worldwide play casual games via the Internet, and by 2008, the casual games market is pegged to hit $1.5 billion worldwide, according to the Casual Games Association. To increase its share, Nickelodeon will be competing against other big players, including Electronic Arts' Casual Entertainment Group, Microsoft Casual Games and RealNetworks.