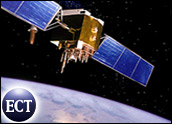 DigitalGlobe successfully launched a sophisticated new satellite from Vandenberg Air Force Base in California Tuesday. The satellite, WorldView-1, has the potential to provide a raft of new imagery for geographical databases such as Google Earth.
The company launched WorldView-1 — which it says is the most agile commercial satellite ever flown — atop a Boeing Delta II 7920 rocket at approximately 11:35 a.m. PDT. It separated from the rocket soon afterwards and automatically initialized its onboard processors. The satellite is now undergoing a "calibration and checkout" period and will begin delivering imagery soon, DigitalGlobe said.
Built by Ball Aerospace, the satellite features an imaging sensor from ITT.
"The successful launch of WorldView-1 represents the hard work of hundreds of DigitalGlobe employees, Ball Aerospace and Technologies Corporation, ITT Corporation and dozens of partner organizations," said Jill Smith, chief executive officer of DigitalGlobe. "We look forward to supplying the growing market with an unprecedented offering of high-resolution geospatial products."
More Frequent Updates
Ball Aerospace built both the satellite bus and the WorldView 60 camera/telescope for WorldView-1. The satellite is a high-capacity, panchromatic imaging system that captures images with a resolution of one half-meter. With an average revisit time of 1.7 days, it is capable of imaging up to 290,000 square miles per day. Once in orbit, it will be the world's first half-meter resolution commercial imaging satellite, Ball said.
The satellite is capable of collecting, storing and downlinking more frequently updated global images than any other commercial imaging satellite in orbit, and its frequent revisits will make it easier to detect changes and keep maps updated, DigitalGlobe said.
WorldView-1 is also the only commercial satellite in orbit equipped with advanced control moment gyroscopes, Ball said, and will offer unprecedented agility with rapid targeting and efficient in-track stereo collection.
QuickBird Companion
The satellite joins DigitalGlobe's QuickBird, which was launched about six years ago and provides many of the imagery seen on commercial sites today. The QuickBird's resolution is closer to 0.6 meters, slightly less than the WorldView-1's.
"With the successful launch of WorldView-1, DigitalGlobe is now better prepared to respond to the growing demand for commercially available, high-resolution imagery," said David L. Taylor, president and CEO of Ball Aerospace. "Since the launch of QuickBird, our first successful collaboration with DigitalGlobe in 2001, we have rapidly improved both the capability and reliability of these remote-sensing satellites."
Intelligence Focus
Though it does offer the potential for new images to be incorporated into sites like Google Earth, the satellite will be focused primarily on national intelligence applications. Specifically, WorldView-1 is part of the National Geospatial-Intelligence Agency's (NGA) NextView program, and was partially financed through an agreement with the NGA. The majority of the satellite's capacity will be used for NGA to collect data on areas the government agency is interested in, Chuck Herring, a spokesperson for DigitalGlobe, told TechNewsWorld.
"We are excited about and eagerly await delivery of the first new imagery," said NGA Director Vice Adm. Robert B. Murrett. "With the improved resolution, agility and capacity of the WorldView-1 satellite, we anticipate increasing the use of commercial imagery to satisfy our geospatial production requirements."
A mix of Department of Defense, intelligence and civil applications have come to rely increasingly on commercial imagery. The new WorldView-1 images will broaden that applicability across a diverse community of geospatial intelligence analysts, military forces and coalition partners, as well as first responders and nongovernmental organizations, NGA said.
A Colorful Future
The satellite is panchromatic, or gray-scale, Herring noted, which could limit broad commercial interest in its images. All images it collects will be available for purchase by all DigitalGlobe's customers, including Google, but "there is no provision or guarantee that images would end up on Google Earth," he added.
"Google works with a number of data providers, and we are constantly working to provide the best imagery available on Google Earth," Google spokesperson Kate Hurowitz told TechNewsWorld.
DigitalGlobe does have another satellite, however — the WorldView-2, which is due to be completed by Ball Aerospace by the end of next year, Herring said — and that one will offer even better color capabilities than those currently available through the QuickBird, with an additional four bands of color spectrum. "Images from the WorldView-2 will be closer to natural true color, with more information about the particular wavelengths of color," he explained.
Increasing Public Interest
In the meantime, the launch of WorldView-1 will free up more capacity on QuickBird for use on commercial applications, he added.
Increasing public interest in satellite imagery because of sites like Google Earth could ultimately lead to more satellites like WorldView-1 being launched, Paul Czysz, professor emeritus of aerospace engineering at St. Louis University, told TechNewsWorld.
"When people can see their house and their neighbor's house and all kinds of things around the world, it's great PR for the government," Czysz explained. "Then, when funding for another satellite needs to be approved, people will be more likely to support it."