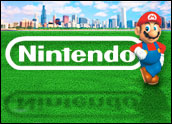 Nintendo is planning a new product offering that will take the company beyond traditional gaming and into the world of health, it announced on Thursday.
Coming hard on the heels of a grim earnings report that prompted a pay cut for President and CEO Satoru Iwata, Nintendo's announcement was described with only the barest of details at a briefing for investors and media.
"We will attempt to establish a new platform business with which we can leverage our strengths, but which is independent from our video game platform business," Iwata explained. "We decided to redefine our notion of entertainment as something that improves people's quality of life in enjoyable ways, and take a step forward in expanding our business areas."
'Non-Wearable Technology'
Rather than vying for a spot in the crowded mobile-app or wearable-tech arenas, however, Nintendo aims instead to create "an integrated hardware-software platform business that, instead of providing mobile or wearable features, will be characterized by a new area of what we like to call non-wearable technology," he added.
At least part of the company's offering would include "providing preventive measures which would require us to enable people to monitor their health and offer them appropriate propositions," said Iwata, adding that the company's strength as an entertainment company will help it keep consumers "engaged and entertained" along the way.
Nintendo will announce more details this year, and the new business will be launched during the fiscal year beginning April 2015.
'Dedicated Platforms'
Given the extent to which the Wii U gaming device has struggled — it's widely viewed as a key contributor to the company's disappointing earnings in recent quarters — it's been widely expected that Nintendo would try something new.
Most bets focused on the idea that it might begin adapting its games for mobile platforms, but the company put such notions to rest in its latest strategy revelations.
"Dedicated video game platforms which integrate hardware and software will remain our core business," Iwata said.
Now that it's clear the company is heading in an entirely new direction, there's no shortage of speculation as to what form this new offering will take.
'Their Chance of Success Is Pretty Low'
"I have no idea what they contemplate," Michael Pachter, managing director for equity research with Wedbush Securities, told TechNewsWorld.
"These guys thought enough of the Wii Vitality Sensor that they made it the centerpiece of their 2009 E3 presentation, and it never saw light of day," he pointed out.
"I would guess that the move into health is being engineered by the same people who thought that would work — and expect Nintendo's health initiative to have a similar fate," Pachter added.
"Their chance of success is pretty low, as it is a completely new business for them, and they have no particular expertise," he concluded. Of course, "with that said, it was arguable that neither Nike nor Jawbone had expertise in getting their customers to wear bracelets, and they managed to succeed anyway."
'Another Accessory'
Given the principles that Nintendo has laid out, including "a hardware-centric ecosystem, non-wearable, quality of life improvement, I would guess it will be another accessory linked to its new hardware system with the ability to measure people's health and wellness indicators in a very nonintrusive manner," Harry Wang, director for health and mobile product research with Parks Associates, told TechNewsWorld.
"The goal of the accessory and related software application is to provide a feedback loop informing people of their quality of life and raising health awareness," Wang explained.
"If it is not going to be wearable, it could be a stationary piece of software built into an everyday item that people use for fitness purposes," he suggested.
'An Extension… Not a Departure'
Nutrition and exercise likely will be Nintendo's focus with the new product, Ted Pollak, a senior analyst for the gaming industry with Jon Peddie Research, told TechNewsWorld.
"It's possible it might be an app for smartphones," he added. "It's not wearable, but it's with you."
Either way, reaching into the health field isn't that big a stretch for Nintendo, Pollak asserted.
"Nintendo mass-market popularized the 'exer-gaming' or 'physi-tainment' market more successfully than any other company in the history of the world," said Pollak, citing Wii Fit and the company's Balance Board as evidence.
"Nintendo certainly never follows the expected easy path and has a history of being very successful sometimes with alternate strategies," Pollak observed.
"This is an extension of health gaming," he said, "not a departure."