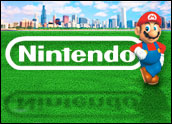 Nintendo won't include same-sex romantic activities in English editions of an upcoming life simulator game.
The company has faced pressure, including a fan-fueled social media campaign, to let users have gay relationships in Tomodachi Life, a game whose characters are modeled after real people.
The company never meant for the game to be a "social commentary," Nintendo of America said in a statement. Instead, the game is meant to be "whimsical and quirky," with relationship options representing "a playful alternate world."
The game was released in Japan last year, and 1.83 million copies were snatched up by December. It features personalized avatars of real players, living on a virtual island. Gamers can engage in any number of activities, from riding roller coasters to shopping, to bumping into celebrities such as Shaquille O'Neal.
Tomodachi Life will come out on June 6 in North America and Europe.
Speaking of Nintendo: The company announced that it finished US$464 million in the hole for the year ending in March. Lagging sales of Wii U, Nintendo's flagship home console, were pegged as the culprit.
[Source: Associated Press]
Vodafone Tries to Resolve Indian Tax Dispute
England-based Vodafone has started international arbitration to end a $2.4 billion tax dispute with India's government stemming from a 2007 acquisition.
The company in April asked the tax tiff to be decided by an international court, it said this week; talks may commence by the end of the year.
The standoff dates back to Vodafone's 2007 purchase of Hong Kong-based Hutchison Whampoa's Indian asset. Vodafone insists that it didn't owe any taxes because the acquisition was between two international companies, and because the target asset was registered in the Cayman Island. However, in 2012, India's government passed a law enabling it to retroactively collect taxes on cross-border deals going back to 1962.
India also has been testy with Nokia over taxes.
[Source: Bloomberg]
First Lady Tweets About Kidnapping in Nigeria
Michelle Obama has tweeted about the horrific kidnapping of 257 girls who were taken from their school in a remote region of Nigeria.
The First Lady's tweet includes a photo of her holding a piece of paper that says, "#BringBackOurGirls," a reference to the hashtag people the world over have used to show support for the victims.
The hashtag has been tweeted more than 1 million times.
[Source: The Guardian]
Huawei Introduces New Phone
Huawei, the world's third-largest smartphone maker, has introduced a new high-end phone, the Ascend P7.
The phone, which runs on Android, is designed to give the Chinese company traction in markets outside the Middle Kingdom. It boasts a handful of features that mirror those of brands like Apple and Samsung, including a 5-inch screen, hi-def display and an 8-megapixel camera.
The phone is slimmer than both the iPhone 5s and Galaxy S5, and it sells for the not-at-all-bargain price of $625, which is almost as much as an iPhone 5s costs in the U.S. (sans a wireless carrier subsidy).
Huawei is launching the phone in dozens of countries in early June, but it won't be landing in the U.S. until late summer.
[Source: The New York Times]