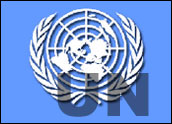 In a move that could complicate the creation of any more Terminator movies, United Nations diplomats on Tuesday discussed international laws to govern, or simply ban, the use of killer robots.
This was the first time that a UN meeting was devoted entirely to the topic, which makes sense given that the robots in question don't yet exist.
That said, the UN wants to be proactive: "All too often, international law only responds to atrocities and suffering once it has happened," said Michael Moeller, the acting head of the UN's European headquarters in Geneva.
Moeller implored the international community to take "preemptive action to ensure that the ultimate decision to end life remains firmly under human control."
Groups such as the Campaign to Stop Killer Robots and Humans Rights Watch have called for a ban on robot killing machines.
[Source: The Associated Press]
EU Tells Web Companies to Forget About It
Internet companies can be forced to remove irrelevant or excessive personal information from search results, according to a Tuesday ruling from the Court of Justice of the European Union.
The ruling upheld a complaint filed by a Spanish man who was miffed that Google searches for his name revealed links to a 1998 newspaper piece about his home being repossessed.
In 2012, the European Commission proposed that people should have the "right to be forgotten," a phrase that has, at least in Europe, has come to define this debate.
Following this week's decision, companies like Google can be required to remove content that fits the (exceptionally ambiguous) criteria of being "inadequate, irrelevant or no longer relevant, or excessive in relation to the purposes for which they were processed and in the light of the time that has elapsed."
The ruling contradicts a non-binding agreement, published last June, in which a key advisor to the European Court of Justice stated that Google could not, in fact, be compelled to erase such data.
[Source: Reuters]
Privacy-Loving Brits File Legal Challenge
Privacy advocates in Britain introduced a legal challenge against the nation's top intelligence agency — National Security Agency compadre Government Communications Headquarters, or GCHQ — claiming that it engaged in illegal hacking.
The complaint, filed by Privacy International, centers on GCHQ's use of malware that enabled it to turn on a computer's microphone and camera without the owner's consent.
The GCHQ programs are the "modern equivalent of the government … rummaging through your filing cabinets, diaries, journals and correspondence," reads a statement from Privacy International.
In February, news broke that GCHQ had intercepted and collected millions of images of people via Yahoo webcam chats. Some of the images were sexually explicit.
[Source: The New York Times]
Aussie Spies Sought US Help
The Australian Signals Directorate, the nation's electronic espionage agency, sought help from American spies as part of its efforts to monitor communications of Australian citizens, according to a new book by Glenn Greenwald, the journalist who first set the Edward Snowden snowball in motion.
In No Place to Hide, Greenwald cites Snowden docs, revealing that the Australian Signals Directorate "pleaded" with the NSA to expand its intelligence partnership.
Greenwald's book also claims that the Australian Signals Directorate and NSA worked together to collect intelligence that led to the arrest of a terrorist involved in the 2002 Bali bombings.
[Source: The Age]
Alibaba Stiffens on Counterfeits Ahead of IPO
Chinese e-commerce giant Alibaba, which last week filed for its much anticipated initial public offering, is touting its intellectual property-protection bona fides.
In recent years, the company has intensified its efforts to rid itself of fake goods, which are notoriously pervasive in China.
Alibaba's IPO filing conceded that the perception that its offerings are full of fakes could negatively impact business, but the company reportedly is doing what it can — including spending US$16 million per year to stop counterfeits — to remedy that image.
[Source: Reuters]