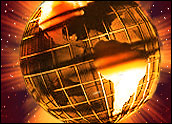 For years, satellite communications devices like satphones and data terminals have been out of reach of the average consumer.
Access to voice calls and Internet in remote locales, where mobile phone networks are unavailable, have only been possible for military, media, mining, government and other deep-pocketed sectors.
Those satellites, after all, are expensive.
The Globalstar Story
However, a peculiar thing happened a few years ago that has contributed to changing this inequality.
Globalstar, a satellite communications provider with its own satellites, started to experience degraded performance on its first-generation satellites, those it sent up between 1999 and 2001.
The birds were deteriorating at a rate faster than anticipated — the amplifiers on the satellites weren't working right and calls weren't, and still aren't getting through. Although Globalstar told TechNewsWorld that things are improving, calls often get dropped, just like a common cellular mobile carrier's do.
As you can imagine, for a publicly quoted company that specializes in providing robust remote communications, this was a big problem and involved some major head-scratching.
On the Spot
Globalstar did two notable things in an attempt to recover from this debacle, one of which was sector-changing.
First, in 2007 it launched its eight spare satellites to attempt to reduce the two-way voice and data gaps in its constellation.
Second, after correctly identifying that its simplex data functionality made for asset tracking worked, as designed, one way, it went after the consumer market with an outdoorsy one-way tracking product in an attempt to get as many customers as possible to alleviate its ailing professional-level two-way voice product.
The product was the US$150 SPOT, and it used the part of the Globalstar constellation that still worked — the simplex data part.
This move brought high-tech satellite communications to the consumer for the first time.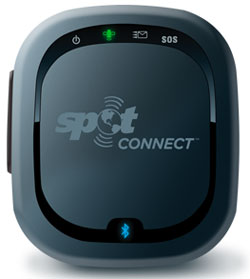 SPOT Connect
Since SPOT came out in 2007, we've begun to see other consumer-reachable products, from other providers penetrate this new market.
TechNewsWorld went in search of kit now out there:
Globalstar SPOT

The cheapest. One-way satellite text message upload geared toward the adventure market. SOS, check-in and custom messages. Sends GPS coordinates.

Hardware: $149 at Amazon and service plans from $99 per year. Models can integrate with smartphones using Bluetooth.

Iridium AxcessPoint WiFi add-on

Iridium AxcessPoint

An Iridium-branded Cradelpoint mobile router modem creates a satphone-based WiFi network.

Iridium's Liz DeCastro explained her product to TechNewsWorld:

"It is a portable and lightweight WiFi hotspot accessory that easily connects BlackBerry and Android devices to the Iridium network using an Iridium Extreme or Iridium 9555 satellite phone." Iridium is a competing constellation to Globalstar.

"Through Iridium AxcessPoint, WiFi-enabled smartphones, tablets and laptops can connect anywhere through the Iridium network."

SatPhoneStore.com sells the Iridium AxcessPoint WiFi for $175.

You will need to add an Iridium satphone to the mix, though. The latest Iridium Extreme is $1,375 plus airtime at SatPhoneStore. Extreme is the smallest, lightest Iridium handset model, according to DeCastro.

BriarTek Cerberus

BriarTek Cerberus

A two-way satellite communications tool that pairs with a smartphone using the Iridium constellation. The associated application installs on your smartphone.

BriarTek's Lewis Crenshaw points out to TechNewsWorld that his product differs from Globalstar's Spot:

"We offer our customers truly global two-way communication."

Server-side critical weather updates and other news can be delivered too. Route-tracking breadcrumbs can be created. Devices start at $499 and plans start at $24.95 a month.

GeoPro

GeoPro Messenger

Geared toward business users, specifically remote off-grid workers keeping in touch. The GeoPro Messenger two-way text to e-mail retails at $399. Its unique attribute is a graphical map-based Web app for the base office. Monthly network access starts at $17 plus a software license at $12 a month.

Delorme inReach

Also using Iridium's constelation, this consumer-oriented waterproof device pairs with a smartphone to also provide two-way satellite messaging.

Delorme inReach

"We have been continuously enhancing its capabilities since its launch in late 2011," Jim Skillings, DeLorme vice president for commercial products, told TechNewsWorld.

"Congo to Antarctica, inReach users around the world are counting on us to keep them connected and informed in the most extreme adventures and in the harshest of conditions."

Delorme Topo maps are included. Outdoors Outfitter REI is selling inReach for $249.95. Plans start at $9.95 a month.