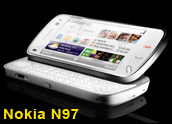 Nokia unveiled its latest smartphone in Barcelona, Spain, on Tuesday at the Nokia World 2008 conference. The N97, set for release in the first half of 2009, could challenge high-profile mobile devices such as Apple's iPhone, Research In Motion's Storm and T-Mobile's G1 for a share of the smartphone market.
The N97 features a 3.5-inch touch display, personalized homescreen with widgets, and a full Qwerty keyboard. For socially minded users, the handset also sports several social networking features utilizing real-time data. The mobile phone's A-GPS sensors and electronic compass enable users to update their locations and use what Nokia has dubbed "social location," technology that lets the device know its location.
Users can also upload pictures and video taken using N97's 5-megapixel camera and video recorder, which includes dual flash and a video light. The handset also offers up to 48 GB of memory — 32 GB on board and an additional 16 GB with a MicroSD card.
The Experience Factor
The overall user experience appears to be Nokia's main focus with the N97, said Ramon Llamas, an IDC analyst, noting that he has not had an opportunity to see the as-yet unreleased handset.
"Today, we look at phones in terms of their hardware. Apple popularized the touchscreen. Somebody else popularized music. BlackBerry does e-mail really well," he told TechNewsWorld.
"In terms of Nokia and the N97, it is really about coming up with an experience that really resonates with consumers, because guess what? It does messaging. It does touchscreen. It does music, and I'm sure a number of other things too. If this is going to be their flagship device — and it looks like it will — Nokia did not hold back in putting in a lot of great features with this thing," Llamas continued.
The No. 1 handset maker is really trying to hit a home run with the device, and hopes it users won't be covertly eying other devices with features they wish Nokia had included.
"Nokia is still looking for and anticipating that sweet spot of consumers who want that all-in-one kind of device, and this is going to be their approach," said Llamas.
Compounding the potential allure of the N97 is Nokia's upcoming Symbian Foundation, an initiative that opens Nokia handsets to third-party developers much the same way that Apple's App Store and Google's Android Market have done for users of their respective devices. The foundation, which will roll out over the course of 2009, will enable developers to create widgets and Internet service applications for Nokia handsets.
A Killer?
The N97 "is not going to kill the iPhone, G1 or Storm," Bill Hughes, an analyst at InStat, told TechNewsWorld, "but it is in that class of product, and it's from Nokia. For those people who have a great deal of faith in Nokia and like their experience because Nokia has the best channels of distribution, it looks like it will be a good fit," he told TechNewsWorld.
While that's not exactly a ringing endorsement, Hughes noted, that's because the phone has not actually been released yet.
The N97 will be priced at 550 euros (US$700), before taxes and carrier subsidies have been included. Depending on how carriers choose to apply relevant discounts for the N97, it could be pricey compared to the other entrants in this segment of the market.
"The dilemma is clearer with the iPod touch and the iPhone, because how do you price the iPod touch? It's not subsidized and it has less features than the iPhone, but it's priced more because it is unsubsidized. Intellectually you understand, but pricing is an emotional issue," said Hughes.
The price will not last, he predicted, but the solution is not clear, as Nokia's N-series handsets are seldom subsidized.