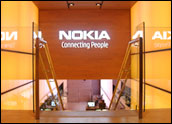 In what's likely an effort to defend itself against the wildly hyped iPhone phenomenon, cell phone giant Nokia on Wednesday unveiled several new wireless devices and services, including a music-download offering to rival iTunes.
Signaling a shift in focus away from hardware and toward software and services, Nokia debuted four new devices optimized for music, entertainment and games, along with the Nokia Music Store and the N-Gage mobile gaming service. The new offerings are part of Ovi, which is Nokia's new Internet services brand name.
Ovi, which means "door" in Finnish, is designed to enable consumers to easily access their existing social networks, communities and content, as well as acting as a gateway to Nokia services, the company said. In addition to the Nokia Music Store and N-Gage, Ovi also includes Nokia Maps, a navigation service that offers maps, city guides and more directly to compatible mobile devices.
'Unlocking' the Internet
The first version of Ovi.com is scheduled to go live in English during the fourth quarter, with additional features and languages expected to go live during the first half of 2008, the company said.
"The industry is converging towards Internet-driven experiences, and Ovi represents Nokia's vision in combining the Internet and mobility," said Nokia president and CEO Olli-Pekka Kallasvuo, speaking Wednesday at the Nokia Go Play event in London.
"Nokia is the No. 1 mobile device company in the world," Kallasvuo added. "Looking into the future, we will deliver great devices, combined with compelling experiences and services, to make it easy for people to unlock the potential of the Internet."
Entertainment Devices
Nokia's four new mobile devices, due to begin shipping later this year, offer dedicated music or gaming keys, expanded memory, large screens and extended battery performance to provide quick and easy access to entertainment content.
"From the compact Nokia 5310 XpressMusic music phone to the fully featured Nokia N81 multimedia computer, Nokia offers a range of entertainment-enabled devices for consumers who want their music, games and favorite media with them wherever they go," said Kai Oistamo, an executive vice president with Nokia. "We believe these full-featured, well-designed devices will be very popular and will help bring Nokia's Internet and music services to life."
Content Delivery
The Nokia Music Store, meanwhile, offers millions of tracks from major artists, independent labels and local artists from around the world. Accessible via PC or a compatible Nokia device, the store lets users browse for and purchase new music, add songs to their wish lists for download later, create playlists on the go and manage their music collections.
It will open across key European markets this fall with additional stores in Europe and Asia opening over the coming months, Nokia said.
Finally, the N-Gage service for games, due to be available in November, will let users try all N-Gage games for free from any one of millions of compatible Nokia devices in the market. A free application, already included in the new devices, will give users access to a wide variety of games, including newly announced titles "Snakes Subsonic" and "Bounce Boing Voyage."
Revenue Questions
"It's very obvious that the trend is leading to more content across more screens, and there are going to be more options on PC, TV and mobile phone," John Barrett, director of research for Parks Associates, told TechNewsWorld.
As content options increase, there may be some trade-offs and cannibalization, but "overall, it will mean a net gain for providers," he added.
What may still have to be worked out, however, is the revenue model for mobile content, he explained. While iTunes offers music downloads at minimal margins in order to sell iPods, the logic is not quite so clear on mobile phones, he said.
"It would be more of an apples-to-apples comparison if customers bought the cell phones at full price, but many companies sell the phones at a loss to get consumers to sign up for service," Barrett noted.
"High-end consumers will probably be interested, but how the revenue strategy will work is not clear," he concluded. "These are the kinds of issues that have to be worked out."