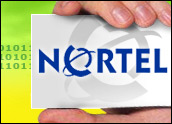 Nortel debuted a new optical network technology designed to provide four times the capacity of current systems and as much as 10 times the capacity in the future.
The 40G/100G Adaptive Optical Engine boosts transmissions from 10 gigabits per second (Gbps) to 40 Gbps, and will go as high as 100 Gbps by the end of 2009, Nortel said, using the existing infrastructures of telecommunications companies.
The technology is designed to solve carrier networks' bandwidth dilemma as a growing number of Internet users turn to the Web to view bandwidth-hogging, high-definition video content.
Battling Bandwidth Bandits
As online video content, wireless broadband multimedia, residential broadcast TV, virtual private networks (VPNs) and video on demand services become increasingly popular, the networks of service providers, cable operators and large enterprises currently capable of 10 Gbps transmissions are straining to meet demand.
"The popularity of video intensive services on the Net are part of this," said Lawrence Surtees, vice president and principal analyst, communications research, at IDC Canada. "But as so much of our online life, our business life and personal life get Internet-dependent, to quote the kids, we need 'faster more.' And if we all need 'faster more,' that puts bottlenecks and pressures on network services."
As Moore's Law postulates that the capacity for microprocessors will double every 18 months to two years, and a similar law in optics asserts that every 18 to 20 months, the capacity of optical networking also doubles, Surtees explained.
"Verizon's launch of FiOS, fiber optic service to the home, is one high-profile, real-world example of [telecoms trying to meet consumers' networking demands]," he told TechNewsWorld.
I Need More Power, Captain
In 2007, Verizon realized it needed to beef up the capacity of its backbone to meet demand and announced it would move from a 10G network to a 40G network. AT&T has made similar announcements, Surtees noted.
"That's where Nortel is playing. Nortel has the 40G laser systems, all the electronics and everything for a single laser on one hair-thin strand of fiber pulsing at 40 billion times per second. What they've also done in the 40G and now 100G space through a couple of advances in optic processors and a couple of proprietary processing chips — they perform a lot of complicated functions on a single chipset that allow for the elimination of multiple repeatable electronics all along the network, therefore bringing down the cost," he pointed out.
"That's one big technical aspect behind what Nortel is starting to bring to market with its 40G and 100G systems," Surtees added.
Comprised of the Optical Multiservice Edge 6500 and Common Photonic Layer, Nortel's 40G/100G Adaptive Optical Engine features a combination of integrated electronic and modem technology to increase network capacity fourfold to 40Gbps on a 10G optical network using simple plug-and-play components.
Nortel's Dual Polarization Quadrature Phase Shift Keying modulation with coherent detection enables 40G transmission over a cost-effective 10G network design and provides similar benefits even for 100G transmission, the company said. The system also employs advanced digital signal processing that removes all compensation requirements from the network, along with their associated capital and operational expenditures.
Faster, Less Congestion
Consumers whose Internet provider increases its network speed with this gear may see two possible benefits.
"One, it may enable the provision of a much faster connection for you to the Internet. Where it may take three minutes to download a whole CD or compressed video from YouTube, you'll be able to do that much, much quicker," Surtees explained.
"If your provider doesn't upgrade your link or provide another next-gen faster service, it will certainly mean that you won't feel the effects of congestion from multiple users on that network to the same degree," he added.
Nortel has faced a number of challenges over the past few years with the company's financial performance taking a nosedive; however, Surtees said, this new offering could give its optical division a boost.
"This could definitely help Nortel pickup its optical business for sure, and that's what it is hoping. Not by overselling faster networks to the existing crowd but rather trying to grow the optical business to new opportunities where people thought optical networks were out of their reach — for wireless providers and corporate network people," he stated.