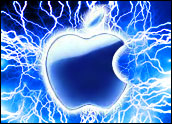 Norway's government will not allow Apple to take aerial photos of Oslo, the Norwegian capital, in the company's quest to create 3D images for its mapping app.
Satellite images of Norway are fair game, but taking aerial photos requires a license, and Apple's request has been denied.
There is reportedly angst over security and what could be done with detailed views of government buildings. Such concerns are no doubt exacerbated by the 2011 bombing and shooting rampage by Ander Breivik, who murdered dozens of children at a youth camp after detonating a bomb outside government buildings in Oslo.
[Source: AftenpostenviaBBC]
Botched LG Promo Lands Attendees in Hospital
Well, if a promotional event is designed to get press, this one qualifies as a success.
South Korea-based LG Electronics finds itself in a bit of a bind after nearly two dozen people were injured at a promo gone wrong in Seoul.
LG's ill-conceived plan, hailed as "G in the Cloud," called for the release of balloons affixed with 100 free G2 coupons. The phones retail for about US$850, so it was a good deal, indeed.
Alas, the crowd reportedly became a bit frenzied, especially when people pulled out BB guns to pop the balloons and snare their coupon. The drama landed people in the hospital, which prompted LG to promise compensation to the injured and cancel subsequent G2-related events.
The G2 will be available globally within the next few months. Just tread lightly if LG starts giving them away.
[Source: The Korea Times via The Register]
High-Tech Trash Cans to be Canned in London
Authorities are demanding that ad firm Renew stop using public trash cans that track people walking through London's financial district.
Renew has equipped the bins with technology to measure WiFi signals from smartphones, turning people's mobile devices into real-life cookies.
"We will cookie the street," Renew CEO Kaveg Memari said in June. (The whole Snowden spying thing, news of which also broke in June, likely complicated the company's messaging.)
It wasn't entirely clear how Renew planned to use the info it gathered. It could conceivably be used for targeted advertising — someone going to Starbucks every day might appreciate a Starbucks coupon or ad on their smartphone — but it doesn't appear that Renew was able to mature the plan.
[Source:The Guardian]
Scammers Try, Fail to Pass Off Ice as iPads
A pair of second-rate con men were sentenced for trying to pass off a parcel full of ice as a parcel full of iPads.
The plan, conceived in England, was to buy insurance on the package and then, when it failed to turn up, claim thousands of dollars' worth of compensation. Things went awry, however, when postal workers noticed that the parcel was leaking.
During the trial, a postal worker said that upon noticing the package was wet, she asked one of the defendants if it was raining outside. He replied yes, which "seemed strange to me because I could see from where I was sitting it didn't look like it was raining."
An hour later, there was "a puddle of water beneath the Special Delivery pile."
The two men were given a 12-month community order — which means a sentence is served in the community and not in prison — and will be required to partake in 150 hours of unpaid work. The duo will also have to pay hundreds in prosecution costs.
[Source:The Daily Mirror]
Ahead of Elections, Party Makes Mobile Pledges
The opposition party in Australia said it will come up with AU$100 million to expand the nation's mobile networks.
With elections looming next month, the Coalition, an alliance of political parties that is more conservative than the Labor Party currently holding power, said the investment would enhance transport routes and help places prone to natural disasters.
One-fifth of the money would be earmarked for a "mobile black spot program" targeting places with high seasonal demands.
[Source:ZDNet]