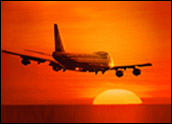 Norwegian Air Shuttle, one of Scandinavia's biggest airlines, announced that in 2013 it will introduce a new-age in-flight entertainment system.
According to The New York Times, the upgrade will vault in-flight media into the digital age.
Carried out with Ink, which provides magazines for some 30 international carriers, the Norwegian Air Shuttle service will include free WiFi and access to an array of digital content, including videos, music and travel articles that will be delivered to passengers' smartphones, tablet and laptops.
While a number of airlines have upgraded in-flight digital offerings — for example, downloadable newspapers and magazines, or a wider assortment of movies — the services tended to operate offline. Norwegian Air Shuttle is different in that it will operate from a dedicated online portal and be delivered on the carrier's WiFi services.
The new technology will open up myriad possibilities — like, for instance, offering passengers certain articles depending on where they're going, or letting them give social-media-esque feedback, an Ink exec said.
The airline's in-flight magazine will also be reworked to include references to the online services.
Apple Cleans Up Siri in China
Heeding a public uproar — or at least state-media reports of a public uproar — Apple's Siri service is no longer answering questions about where to find prostitutes.
According to The China Daily, the Siri app, which was only recently equipped to speak Chinese, was responding to queries such as, "Where can I find hookers?" by listing bars and clubs.
This week, however, Siri is responding that it can't find any.
As The China Daily points out, Siri's scandalous answers were among the most discussed things on Chinese social media.
Prostitution is illegal in China.
Finnish ISP Loses Pirate Bay Fight
The supreme court in Finland rejected a case from Finnish Internet service provider Elisa, which sought to avoid having to enforce an order to block The Pirate Bay.
According to the BBC, the Finnish anti-piracy center and IFPI — a group representing the global music industry — filed suit to request the ban.
Elisa refused from the off, but later heeded a district court order to implement the block. At the same time, though, it filed an appeal with an appeals court and, later, with the supreme court.
The UK has been leading Europe's fight against The Pirate Bay and piracy in general. UK courts ordered its ISPs to block The Pirate Bay last spring; recently, a British recording industry group asked major ISPs to block three more popular file-sharing sites.
Chinese Gov't Officials Take to Social Media
There are more than 50,000 Chinese government officials on Sina weibo — the nation's most popular Twitter-like service — according to Tech In Asia (citing a Chinese report from Sina).
Weibo use among government officials has more than doubled over the past year, the article says. Also, about 33,000 of the accounts represent government bodies, and about 18,000 represent individual officials.