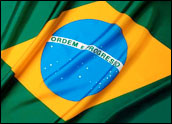 Few if any countries have been more outspoken, incredulous and chest-thumping over U.S. spying revelations than Brazil.
Last summer, after Edward Snowden's leaks had made the rounds, Brazilian lawmakers proposed a law that would require e-businesses to store data in Brazil (and only Brazil). Then, after it was revealed that the U.S. had spied on Brazilian President Dilma Rousseff, Rousseff canceled a state visit to the U.S. and later admonished the U.S. — with President Obama on-hand — at the UN. Rousseff pulled off the trifecta by taking to Twitter to announce that Brazil planned to build an NSA-proof email system.
Well, that high ground just sank a bit.
Brazilian newspaper Folha de Sao Paulo reported that it got its hands on a document from the Brazilian Intelligence Agency, ABIN, which details surveillance carried out on the U.S., Russia, Iran and Iraq in 2003 and 2004. At that time, Luiz Inacio Lula da Silva was Brazil's president, not Rousseff.
The ABIN reportedly monitored the U.S. Embassy in Brasilia, which was suspected of being a hotbed for espionage. The U.S. has denied that the embassy was used for espionage.
Rousseff's office issued a statement, saying, "The operations in question [took place] in accordance with Brazilian legislation pertaining to the protection of the national interest."
The White House couldn't have said it any better.
To be fair, the ABIN snooping was small peanuts compared to what the U.S. is reported to have done to Brazil: monitoring millions of high-level communications, including phone calls of Rousseff and state-owned oil giant Petrabras.
[Source:Global Post via The Verge]
Australia Backs Off Tech Tax Crackdown
Australia's new government announced it won't pursue a previously discussed initiative to crack down on tax-dodging tech companies.
The previous government had planned to deny certain deductions that would help recoup taxes, but those plans have apparently been nixed.
Late last year, Australia vocally condemned tech companies' propensity to skirt taxes. The country's assistant treasurer famously described Google's tax habits as a "double Irish Dutch sandwich," referring to the company's clever — if legal — practice of routing income through Ireland; paying a royalty to a Dutch subsidiary; and then repaying said royalty to a second Irish holding company controlled in Bermuda, where there is no corporate tax.
[Source:The Register]
Russia Towing Olympic Torch to Space
A Russian spacecraft launching Thursday will carry with it the Olympic torch, which will light the Olympic flame at February's 2014 Winter Olympics in Sochi, Russia.
The torch is headed for the International Space Station. It will not only exit Earth's atmosphere, but will also be taken outside the station. The Olympic torch was sent into space in 1996 when it was aboard the U.S. space shuttle Atlantis, but it has never been outside a spacecraft.
A Russian, an American and a Japanese astronaut will be in the Russian spacecraft toting the torch.
The torch will not be lit during any of this.
[Source: AP via The Age]
Beijing Startup Launches Designated Driver App
A Beijing startup called "Edaijia" — which translates to "E-designated driver" — has created an app that pairs people who are drunk with drivers who are not.
Drivers can sign up to have their car's location displayed on Edaijia's iPhone and Android apps. The app then matches wannabe passengers with wannabe designated drivers; the minimum charge is about US$6.50, but $16 after midnight.
Edaijia also has a feature for people who have their cars with them but are too drunk to drive. In such instances, a DD will show up with a foldable bike that can be thrown in the trunk.
[Source: Tech In Asia]