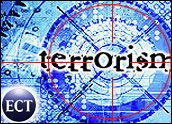 New York Times blogger Steven D. Levitt, coauthor of the bestseller Freakonomics, might get more than he bargained for in response to a questionhe posted on Wednesday: "If you were a terrorist, how would you attack?"
Posed in the spirit of "public service," Levitt writes, the question is meant to get readers' best ideas "out in the open" so that terror fighters can have a chance to consider and plan for them before they occur.
"I presume that a lot more folks who oppose and fight terror read this blog than actual terrorists," he explains.
Just under 600 comments had been posted by early Thursday afternoon. While many of them were earnest suggestions for possible terrorist plots to consider, others were attacks on Levitt's idea instead, focusing in particular on its potential use by real-live terrorists.
The Sniper Model
Ideas posted on the site spanned a wide spectrum, but most had the same goal: Inspiring fear and crippling the social fabric and economy of the United States. One of Levitt's own suggestions, for example, is based on an idea his father had after the Washington-area snipers struck terror with their attacks in 2002.
"The basic idea is to arm 20 terrorists with rifles and cars, and arrange to have them begin shooting randomly at preset times all across the country," Levitt wrote. "Big cities, little cities, suburbs, etc. Have them move around a lot. No one will know when and where the next attack will be.
"The chaos would be unbelievable, especially considering how few resources it would require of the terrorists. It would also be extremely hard to catch these guys," he explained. "The damage wouldn't be as extreme as detonating a nuclear bomb in New York City, of course; but it sure would be a lot easier to obtain a handful of guns than a nuclear weapon."
'Extremely Irresponsible'
Such plots would undoubtedly succeed in accomplishing the overriding goal of terror, and few would deny that consideration and preparation for the potential ahead of time would be a good thing. Yet a significant number of observers have expressed dismay, disgust and concern that Levitt's blog listing will amount to a warehouse of ideas for real terrorists to choose from.
"You have got to be kidding me," commenter Bob Carson wrote. "Ideas for terrorists? Think you are being cute? Clever? You are an idiot."
"Please, please remove this how-to guide for terrorists from the Web," wrote J. Foster. "Of course there's all sorts of information already out there, but suggesting more ideas to terrorists is extremely irresponsible. Stupid, in fact. Why on earth would you think this is a good thing to do? What purpose does it serve?"
'All Old-Hat'
Levitt, however, maintains that terrorists are unlikely to learn anything new from the ideas of ordinary citizens.
"Terrorists spend all day trying to think up plots," Levitt told TechNewsWorld. "It would amaze me if my post told them anything they don't already know. If anyone learned anything from the post and the replies, it might be people fighting terror, although I suspect this is all old-hat to them too."
The New York Times could not be reached for comment.
An Official Precedent
The notion of creating an online exchange for terrorism ideas is not a new one.
Back in 2003, as part of the Terrorism Information Awareness Program, Rear Adm. John Poindexter, a former National Security Advisor to President Reagan, led a similar effort called the "Policy Analysis Market" to establish an Internet-based futures organization to try to predict political and terrorist events, Herbert Strauss, research vice president at Gartner focusing on national security, told TechNewsWorld.
That controversial project was already online with funding from a federal grant and was scheduled to begin beta-testing when the Senate intervened and stopped the effort. Then-Secretary of Defense Donald Rumsfeld canceled the project, and Poindexter resigned, Strauss explained.
Seed for a Bad Deed?
"Free speech is just that, and whether it's right, in good taste or just dangerous is in the eye of the beholder," Strauss said. The way an online idea exchange could become risky, he added, is if someone knows of a vulnerability that isn't yet widely known, and if terrorists learn of it through the blog before the government can do something to address it.
"Rather than a starting a blog about ways to attack the U.S., we just might want to monitor the blogs of Al Quaeda and similar groups more closely," Strauss concluded.
In the meantime, could Levitt's blog create the seed of a bad deed? "Sure," Strauss said, "but so could a novel."