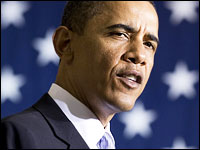 It was deja vu for President Barack Obama and the Federal Communications Commission, as both executive branch representatives unveiled broad plans this week to expand broadband access.
In June 2010, the White House ordered billions of dollars from government spectrum auctions to build new public safety networks. Obama revisited the idea Thursday with his Wireless Innovation and Infrastructure Initiative. Although White House officials spun the plan as "unveiled" and "new," it mirrors the 2010 proposal: using spectrum auction bucks; extending wireless broadband to roughly 98 percent of the nation; building a national public safety broadband network; and promoting innovation and research.
The presidential proposal also infuses US$5 billion into the FCC's Universal Service Fund (USF), established in 1996 to bring wire line telephones to rural areas.
Obama's plan "signals the president's commitment to a fourth-generation wireless broadband system for the U.S. that will be comparable to today's wired broadband," said telecommunications attorney Daniel Brenner of Hogan Lovells. "It's most unusual for a president to be involved in the details of spectrum recapture. But, as he signaled in the State of the Union address, this is a top priority."
In tandem with the president, FCC officials Tuesday took aim at the USF, labeling it "broken, wasteful and inefficient," and pushing to remake the quasi-tax on telephone bills into a major supporter of broadband access initiatives. In March 2010, FCC commissioners tackled the access issue with a slightly different approach that involved incentives to free up 500 mHZ of broadband spectrum.
Spectrum Conundrum
Calling on the Defense Department, National Oceanic and Atmospheric Administration, and private television stations to relinquish available broadband spectra, President Obama told observers at Northern Michigan University that few technological developments hold as much potential to enhance America as wireless high-speed access.
To secure the spectrum administration officials want to auction away, the FCC might simply take some back from television stations, providing incentives in exchange. A presidential order could secure the necessary federal supply.
That approach strikes the National Association of Broadcasters (NAB) as heavy-handed.
"Broadcasters, whose spectrum is the focus of these incentive auctions, are divided on this plan to say the least," said Hogan-Lovells' Brenner. "Convincing policy makers to pay for voluntarily returning spectrum is also likely to be contentious."
Future battles may indeed lie ahead, but the administration has already committed spectrum auction proceeds. Of an expected $27.8 billion, $9.6 billion will reduce the deficit; $3 billion will start a wireless innovation fund; $10.2 billion will deploy a national public safety network; and $5 billion will fundthe FCC/USF initiative to extend 4G broadband to 98 percent of the nation.
Patchy coverage and spectrum repurposing are thorny issues, both politically and technologically, Brenner told TechNewsWorld. Those challenges may be among reasons northern neighbor Canada lacks a national broadband focus.
"We have precisely the same challenge: How do you get broadband to low-population areas?" said Catherine Middleton, Canada research chairholder in communication technologies in the Information Society at Ryerson University.
"But Canada does not have a national broadband strategy or the same kind of focused attention on telecom access," she told TechNewsWorld. "In some provinces, coverage is good; in other provinces, coverage is spotty."
System Fix
Remote, rural areas and tribal lands lack broadband access, and the FCC wants to use the USF and a related funding mechanism, the Intercarrier Compensation (ICC) system, to extend it. But both systems "are broken," said FCC Chairman Julius Genachowski in a statement that mirrored President Obama's comments.
"Broadband has become vital," he insisted.
"When Genachowski says the system is broken, he means that it's become outdated, and that the money it generates isn't being wisely utilized," said George Calhoun, executive-in-residence at the Stevens Institute of Technology and cofounder of InterDigital.
Canada's version of the FCC — the Radio, Television and Telecommunications Commission (CRTC) — is looking at similar directives, said Ryerson's Middleton, and she thinks the FCC proposal has merit. The USF has a history of working.
"The USF has been very successful as a value-building fund that extended landline telephone access," Stevens' Calhoun told TechNewsWorld. "But it has outlived its usefulness, and now may be sitting on as much as $8 billion in reserves that could better be used for broadband access."
Now, USF funds are being spent on "non-useful projects," Calhoun explained. "The FCC's proposal is very valid, and I do see commissioners moving in a synchronized sense with President Obama's proposal."