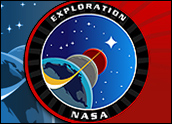 President Obama on Monday proposed a dramatically new path that would end NASA's Constellation moon program and shift the agency's focus to developing new technologies for deeper space exploration instead.
"The truth is that we were not on a path to get back to the moon's surface" in a reasonable time frame, NASA Administrator Charlie Bolden explained while presenting the proposed budget for fiscal year 2011. "As we focused so much of our effort and funding on just getting to the moon, we were neglecting investments in the key technologies that would be required to go beyond."
The president's new budget request provides US$3 billion over five years for "robotic exploration precursor missions that will pave the way for later human exploration of the moon, Mars and nearby asteroids," Bolden explained. "These missions will inform us of the most interesting places to explore with humans, and validate our approaches to get them there safely and sustainably."
Also included in the proposed $3.8 trillion budget are funds for developing new engines, propellants, materials and combustion processes, as well as cross-cutting technologies such as communications, sensors and robotics, Bolden said.
'The Big Prize'
There has been a longstanding debate among scientists, engineers and administrators over whether it makes more sense to continue studying the moon, so that it can then be used as a proving ground in other explorations, or whether resources would be better spent investigating Mars, Harry Lambright, a space policy expert at the Maxwell School of Syracuse University, told TechNewsWorld.
"Many have worried that if we went to the moon, we would stay there and wouldn't get on to the big prize," Lambright explained.
The alternative chosen by the Obama administration is to invest in more advanced technologies than the moon rockets that have been developed so far, he added.
Such advanced technologies are still in the R&D stages, so "there's no guarantee about their payoff," he noted — "certainly not in the near term."
Mars, however, is clearly "the ultimate goal," Lambright asserted. "The debate was simply the role of the moon" along the way to that goal.
Psychological Effects
A lot has to happen before humans can undertake a manned mission to Mars, Lambright stressed.
"There's a great deal that has to happen from the standpoint of engineering, but I think the showstopper is human," he said. "No one is quite sure of what the health effects will be as we get further from Earth and are in space for a very long time."
Whereas the moon is some 250,000 miles from Earth, Mars lies anywhere between 33,900,000 and 249,000,000 miles away, depending on the positions of the two planets in their orbits.
Traveling to Mars would thus involve a much longer trip and a much longer stay, Lambright noted, raising questions as to the effects of such a journey on human psychology. Then, too, there would be the need for people with skills in areas such as medicine and dentistry to be present on the journey, in addition to an increased load of supplies.
'No Miracles Have to Take Place'
In terms of technology alone, "no miracles or radical new inventions have to take place" before people can travel to Mars, Steven W. Squyres, Goldwin Smith Professor of Astronomy at Cornell University, told TechNewsWorld.
Big rockets, life support systems, heat shields, parachutes and storable propellants, for example, are all things humans understand already, he noted.
"However, we need to develop, test, build and fly these things, and that takes a lot of time and a lot of money," Squyres pointed out. "Having the technology is very different from actually being able to launch something."
Making sure the systems are effective, safe and reliable, in other words, "is another thing entirely," he said. "It's a huge investment."
Not in This Decade
While no fundamentally new, totally unproven technologies may be necessary to get humans to Mars, "that's not to say that there aren't some that would be very helpful," Squyres pointed out.
Alternatives to current chemical propulsion capabilities, for example — which require between six and eight months to get to Mars — could make the trip much faster, he noted.
However, there's no way humans will get to Mars in this decade, according to Squyres.
"NASA had been hoping to get humans back to the moon in the next decade, so getting humans to Mars in this decade is out of the question," he explained. "Even if money were unlimited, it would be tough."
Maybe in 30 Years
It is a very long-term goal, Lambright agreed — one that will require making it an international project, with all the diplomatic and political challenges that involves.
The International Space Station, of course, is another such project, but some 26 years have elapsed since it was started, and it's still not done, he pointed out. Mars, meanwhile, is "more difficult."
A more realistic time frame for reaching Mars with a manned mission is 30 years, Lambright suggested — "assuming we can move the machinery of nations to cooperate."
Momentum Interrupted
Though Lambright agrees that Mars is the ultimate prize, he laments the decision to end the moon project.
"In big projects, there's such a thing as momentum," he explained. "When you interrupt that momentum, it can be hard to regain it. "
With this country's political process, of course, that could happen each time a new president takes office, Lambright noted. As a result, "the issue no one wants to talk about is if this country is capable of these huge projects."