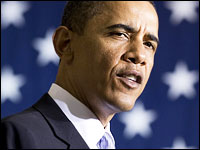 President Obama on Thursday delivered a major speech at the John F. Kennedy Space Center in Florida about his vision for human spaceflight in the coming years, affirming that he is "100 percent committed to the mission of NASA and its future."
As part of a US$6 billion increase in NASA's budget over the next five years, the president aims to increase exploration of the solar system, as well as make more Earth-based observations designed to help humans protect the environment.
Obama also said that the administration will extend the life of the International Space Station by more than five years while working with the private sector to make reaching space more affordable. A $3 billion investment, meanwhile, will be put toward developing an advanced heavy lift rocket, with a design scheduled to be finalized by 2015.
'Nobody Is More Committed'
Following a wave of harsh criticisms by former astronauts and others, Obama declared, "nobody is more committed to manned space flight, to human exploration of space than I am."
At the same time, "we've got to do it in a smart way," he added.
Among Obama's milestones for the coming years are a set of crewed flights to "test and prove the systems required for exploration beyond low Earth orbit," he explained. Specifically, he plans to begin by sending astronauts to an asteroid for the first time in history.
By 2025, the administration expects new spacecraft designed for long journeys to enable the first-ever crewed missions beyond the Moon into deep space.
By the mid-2030s, "I believe we can send humans to orbit Mars and return them safely to Earth," Obama asserted. "And a landing on Mars will follow. And I expect to be around to see it."
'I'm Challenging NASA'
In order for such milestones to be achieved, however, NASA will first have to develop "breakthrough propulsion systems and other advanced technologies," Obama cautioned.
"I'm challenging NASA to break through these barriers," he said. "And we'll give you the resources to break through these barriers. And I know you will, with ingenuity and intensity, because that's what you've always done."
Obama also proposed a $40 million initiative led by the White House and federal agencies to develop a plan for regional and economic growth, including adding more than 2,500 jobs along the Space Coast in the next two years, with the potential for thousands more as companies compete to be a part of the new space transportation industry.
'Only the Beginning'
When "little more than 40 years ago, astronauts descended the nine-rung ladder of the lunar module called Eagle and allowed their feet to touch the dusty surface of the Earth's only Moon," it was not only "the greatest achievement in NASA's history, it was one of the greatest achievements in human history," Obama said.
"The question for us now," he added, "is whether that was the beginning of something or the end of something. I choose to believe it was only the beginning."
Resetting the 'Game Clock'
Observers seemed to agree that the speech was a powerful one.
"We all knew he was a great speech-giver, and he outdid himself," James Oberg, a retired rocket scientist who is now an author and full-time media consultant, told TechNewsWorld.
Not only that, but "the strategy he outlined is actually one that's been developed over recent years by teams of very professional space strategists," Oberg pointed out. "These ideas are not something Obama or his staff made up."
Essentially, Obama's policy "resets the game clock," so that it's "no longer too late to add a better idea," Oberg added.
No 'Path to Mediocrity'
"Apollo was never meant to be an ongoing program, and it wasn't upgradable," he noted. "Constellation was supposed to be better, but it turned out that many of the advantages desired evaporated."
Obama's strategy, on the other hand, "will engage a skill set of the entire space team and more," as well as requiring new skills and new skilled employees, Oberg asserted. "The engineering challenges are in no way 'a path to mediocrity'," as critics have charged.
The strategy, in fact, is one "that's appealed to me for a number of years," he noted. "I despaired that it was too logical to ever attract political attention."
Now that it has, "I think we're on the verge of half a dozen really knock-your-socks-off transportation technologies," Oberg opined.
'Probably Overdue'
The most important thing was that Obama said, "'I'm committed to human exploration, and this is part of my legacy as president,'" said John M. Logsdon, a space policy expert and professor emeritus of political science and international affairs at George Washington University's Elliott School of International Affairs. "He's identified himself very personally with it."
Logsdon, too, is "a strong supporter" of Obama's vision. "I think it's necessary and probably overdue," he told TechNewsWorld.
Not everyone, however, is quite so sure.
"I agree with the nice words," Paul Czysz, a professor emeritus of aerospace engineering at St. Louis University, told TechNews World, but he asserted that Obama doesn't have anybody in place to say how it should all be done.
'The Physics Are Against You'
"What I'm afraid of is that guys will come in with ideas, and the bureaucrats will say, 'we can't risk that, that's too far out,'" Czysz explained. "I don't even think the bureaucrats will ask them — they don't know what questions to ask. They know they'll get money, but I don't think they'll ever have their feet held to the fire if they don't accomplish something."
The focus should be less on technology and more on solid, reliable hardware, Czysz asserted.
"That's the No. 1 issue when you go anywhere in space," he explained. "You can't get out to an asteroid and have high-tech whatever, and suddenly the engine won't light. It's dependability and reliability far more than technology, and that's what Obama didn't say.
"If you spent a hundred trillion dollars, you still couldn't improve rocket motors 2 percent because we're at the limit of what they can provide," Czysz added. "The physics are against you."
'Dreamers, but Realists'
Technical details aside, what seems clear to most is that "the program must be judged in its implementation, not in its presentation," Oberg pointed out — particularly given "the level of politicization that these days are seeing."
There's no doubt that it was "an inspirational speech that makes very exciting promises, but the people who will carry it out have to be realists," Oberg concluded. "Dreamers, but realists."