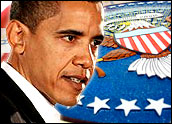 Obama on Thursday will speak at the Kennedy Space Center in Florida about his plans for drastically changing the direction of the nation's human spaceflight program.
Included in those plans is a decision — originally announced back in February — to end the Constellation moon program and shift NASA's focus to developing new technologies for deeper space exploration instead.
The new plan will increase NASA's budget by US$6 billion over the next five years. It calls for a decision in 2015 on the specific heavy-lift rocket chosen to take Americans deeper into space, the White House said.
Decision Is 'Devastating'
Though former astronaut Buzz Aldrin has spoken out in favor of Obama's plans, a trio of other high-profile astronauts recently released an open letter criticizing the administration's new direction.
"The decision to cancel the Constellation program, its Ares 1 and Ares V rockets, and the Orion spacecraft, is devastating," wrote former astronauts Neil Armstrong, James Lovell and Eugene Cernan in an open letter published on Tuesday.
"For the United States, the leading space faring nation for nearly half a century, to be without carriage to low Earth orbit and with no human exploration capability to go beyond Earth orbit for an indeterminate time into the future, destines our nation to become one of second or even third rate stature," they added.
The administration has since said it would revive a scaled-back version of the planned Orion space capsule to provide an emergency escape for astronauts aboard the International Space Station.
'Listening to the Wrong People'
President Obama has "got the wrong equation," Paul Czysz, a professor emeritus of aerospace engineering at St. Louis University, told TechNewsWorld. "He's listening to the wrong people."
The criticisms posed by Armstrong and the other former astronauts are valid, Czysz added. Armstrong, in fact, is typically "very reticent," he pointed out. "For him to come out publicly like this is an enormous change of character. He really has to believe this is something he needs to do."
The administration may point to today's improved technologies as part of its justification for ending the moon program, but "it's not technology that's needed — it's hardware," Czysz asserted.
"When you buy a car today, the electric car has to be just as reliable as a gas car," he explained. "You can't say, 'it's high tech, so if it breaks down every week I don't care.'"
An Ideal Testing Ground
Going to the moon has nothing to do with grandstanding, Czysz opined. Rather, it's an ideal place to test any of the technologies that need to be developed for exploration of deeper space.
If technologies are developed on Earth and then sent directly to Mars, for example — as the new program would dictate — "if you stick that equipment on Mars and something happens, you're a year away" from Earth, he warned. "The astronauts are dead."
The moon, by contrast, is only 48 hours away with today's rockets, Czysz pointed out. It's also a slightly harsher climate than Mars, and so provides a perfect testing ground.
"That's what Armstrong and the others understand," he added. "You need to engineer equipment so the hardware actually works."
'That's Just Shortsighted'
Both Mars and the moon are important, but "the moon is a proving ground for a majority of the technologies that will be used on other worlds," said Randa Milliron, CEO and cofounder of Interorbital Systems and Trans Lunar Research. "To bypass the moon just because a few people have already been there — that's just shortsighted."
Without the politics inherent in government circles, the commercial sector could be much more productive, Milliron added.
"I'd like to see some tiny fraction of that money going off into other programs being funneled into companies that are making moon exploration their main goal," she concluded.
"For the cost of that $500 million launch rig that was set up for the Ares, we could have a moon base" all set up.
'I Hope We Speak Chinese'
Russia, China, Japan and India could all easily travel to the moon, Czysz noted. The United States needs to build up an infrastructure at low-Earth orbit "so we don't have to keep asking the Russians for a ride."
If Armstrong and the other astronauts "can make the right appeal," and if the right company gets involved, there might be a chance of success, Czysz concluded.
Otherwise, he added, "I hope we speak Chinese."