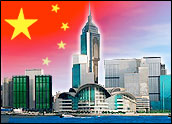 The International Olympic Committee reportedly has ruled that competing athletes will be allowed to blog from the Beijing Olympic Games this summer. This is certainly a positive step, but not enough, according to experts who insist that blogging has a rightful place at any major political or sporting event.
The IOC's blessing on blogging does come with limits. Blogging will be permitted during the games as long as the athletes keep their reflections, observations or photographs outside standard reportage of Olympic events, according to reports. Athletes also will be allowed to transmit photos of themselves, as long as the images are outside the context of their participation in an Olympic event.
The IOC, in handing down its rules on blogging, reportedly wants to make sure such activities don't infringe on copyright agreements and private information.
New Rules Do Have Limits
Blogging is a touchy subject, anyway, in China, which maintains tight control over the flow of online information. Also, the IOC is protective of its enterprise, and perhaps more than a little skeptical about the legitimacy of independent bloggers.
"I think we're headed for a potential train wreck in the context of the Olympics because there will be a lot of activity in blog space online," said John Palfrey, executive director of the Berkman Center for Internet and Society at Harvard Law School. "At the same time, it's going to be happening in an area that's one of the most heavily censored in the world."
Independent blogging is a form of expression and not legitimate journalism, the IOC reportedly said. That's a shortsighted attitude, Robert Cox, president of the Media Bloggers Association, told TechNewsWorld.
"The current contracts don't anticipate the technology," he noted. "So although these agreements are in force today — and I'd expect NBC to seek enforcement of the current rules — I think what's going to have to happen is the organization signing these deals, whether at sporting events like the Olympics or political events, are going to have to rethink their policy of live blogging the events."
Loophole for 'Big Media'
The rules allow reporters from newspapers and other print and broadcast organizations to blog from the Olympics, as long as all information is transmitted first to their outlets, which then upload the information, Cox said.
"It's sort of a distinction without a difference to say a reporter can't upload an account of event directly but can do so as long as he sends the information to his news organization," he noted, adding that the new IOC accommodations for athletes do nothing for the growing network of independent bloggers.
"This does not advance the goal of bloggers covering events as traditional media," Cox commented. Plus, the "great Chinese firewall" that has a vice-like hold on the Internet in China makes matters worse.
"There is a political aspect to this, which is the Chinese government has aggressively prohibited the use of the Internet and particularly blogs that publish information that somehow might not be perceived as flattering to the government," he added. "I imagine there are going to be some issues about it if an athlete decides to write about any political issue in what they see."
Athletes likely won't be considered political threats on the order of independent bloggers, Cox said. "As a practical matter, having been to a number of large sporting events, including the Olympics myself, I suspect the athletes aren't going to see a whole lot of China. But if an athlete is in there blogging and saying things that are not complimentary to the government, that could be a problem."
China Well-Versed on Censorship
China is well-versed at controlling information coming out of the country — although some inevitably will get through to the outside world, said Palfrey, whose organization studies the growth and control of the Web worldwide.
"One way they crack down in places like China is to block entire blogging services," he told TechNewsWorld. "I think the dynamic is going to be that there will be more information coming to the world about China than ever before in the lead-up to the Olympics and during the Olympics."
However, the system has holes, Palfrey noted. "It's something the Chinese have invested more in than anywhere else. You're going to see more conflicts between people trying to get more information and China's efforts to curtail speech."
Whether independent bloggers will get any help in gaining more access to the Olympics before the 2008 Games being is an unanswered question, Palfrey said.
Nevertheless, the blogosphere isn't going away. "Blogging will become part of the fabric of news gathering and kind of information processing. It's a supplement, not something that will replace big media's coverage of big events. I'm having trouble seeing how that would affect that contracting process."