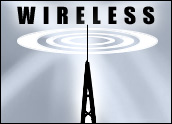 Roughly one-third of Internet surfers in the United States have connected to the Web wirelessly, according to a report released Sunday by the Pew Internet & American Life Project. The survey also found that wireless Internet users check e-mail and news sites much more frequently than wired users.
"Users of wireless access show deeper engagement with cyberspace — at least when focusing on two basic online activities, e-mail and news," the study observed.
By Laptop, PDA, Cell
According to the survey, some 34 percent of Internet users have logged onto the Web using a wireless connection either in their home, workplace or somewhere else, using a laptop computer, personal digital assistant (PDA), or cell phone via a WiFi broadband connection or cell phone network. Among that group, 27 percent said they had gone online from a place other than home or work, while 20 percent used a wireless network in their home, another 17 percent reported using a wireless connection at work and 13 percent were able to connect wirelessly using a PDA.
Laptops are the device of choice for wireless access, according to the survey. Nearly 40 percent of Internet users have a laptop. Of that number, some 80 percent said they use a wireless network to go online. The bulk of respondents using wireless-enabled laptops, 88 percent, also reported that most of the time they log onto the Web from their home, and 57 percent said they had logged in from a location other than work or home, as well. Thirty-six percent said that their workplace offered wireless connectivity.
Pew researchers said the growth in home-based wireless networks has "undoubtedly fueled" the use of wirelessly connected laptops at home. One in five surveyed reported having a wireless network at home. That's almost double the number who said they had a wireless home network in a prior Pew survey from January 2005.
"I expect that the number of home users will increase," Bill Hughes, an In-Stat analyst, told TechNewsWorld. "It is common that Internet service providers will offer one of the versions of 802.11. It increases value to the user for a small increase in price. This will continue to drive usage of wireless upward."
Among cell phone and PDA users, 25 percent and 13 percent, respectively, reported having a device with wireless Internet functionality. A little more than half, 54 percent, said they had used their mobile phone to get online either at home, work or someplace else, while 82 percent of those with PDAs had done so.
Business or Pleasure?
Of the 34 percent of wireless Internet users, almost three out of four — 72 percent — said that on a typical day they check their e-mail, compared to 63 percent of home broadband users and 54 percent of all Internet users. Almost half, 46 percent, go online to check out the news, while only 38 percent of home broadband users and 31 percent of all Internet users do so on a typical day.
Given the survey results, researchers determined that the differences between wireless and home broadband users were "statistically significant," as 80 percent of wireless users have a broadband connection at home. These findings, they reported, suggest that the "relentless connectivity" provided by wireless access encourages "a different quality in online behavior."
"It is possible — even likely — that lifestyle circumstances such as one's job may require lots of e-mail connectivity and associated wireless access," the researchers reported.
Hughes agreed with the researchers, adding, "Most of [business users] have laptops and many of these have wireless modems built-in. That makes it easier to connect wirelessly."
Older Users
Work-driven wireless connectivity could account for findings such as older users (ages 30 to 49) accessing the Web wirelessly more often than younger users (ages 18 to 29), Mike McGuire, an analyst at Gartner, told TechNewsWorld. According to the survey, 49 percent of wireless users in their 30s and 40s have gone online using a wireless device while only 30 percent of college-aged and young adult users reported doing so.
"The 30-to-49 age range also shows a predilection to use wireless access, particularly with respect to devices that are often adjunct to people's jobs," the surveyors found.
Of the older users, a little less than one in five, 18 percent, have accessed the Internet wirelessly at work, while 15 percent have a wireless-enabled PDA.
"The gap between young adults and older folks regarding wireless connectivity isn't too surprising," McGuire said. "A lot of those older folks have jobs for which wireless connectivity is either required by their employer or is viewed as necessary by the individual to stay ahead of work.
"In other words, wireless access is a requirement for work; for young adults it's a nice-to-have but not yet got-to-have," he added.