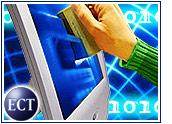 The volume of goods being purchased via the Internet is rising. However, while certain consumers know what they want and feel comfortable making an instant purchase, many have questions about product pricing, availability and quality. Increasingly, the latter group is turning to online comparison-shopping sites for help when making a purchase decision.
Convenience is a big attraction of these sites. A user can find information about a variety of products and companies. BizRate.com, for example, says it works with more than 40,000 sellers and has information on more than 30 million products. The high volume of products is one reason why Jupiter Research found the number of individuals using the BizRate.com site increased from 11.3 million in December 2002 to 12.6 million in December 2003.
Yet companies such as BizRate.com, Pricegrabber.com, NexTag and Shopping.com go beyond simply connecting potential customers to desired products. These sites feature up-to-date, side-by-side feature comparisons; written evaluations from individuals who have used different products; availability information, such as who sells an item and whether or not it is in stock; and pricing comparisons, including any shipping charges.
Reviews and Reports
The sites try to function like Consumer Reports and provide information about product performance and reliability. As a result, the online comparison-shopping sites feature reviews written by other consumers. For instance, Shopping.com has approximately 2 million reviews on its network.
However, the Internet's anonymity presents potential problems with these reviews: In hopes of boosting its sales, a company could have an employee, relative or distributor contribute a glowing product review, which might influence potential purchasers. "We do get a few positive reviews from biased sources, but the bigger problem comes from disgruntled employees writing negative reviews," said Helen Grace, who oversees reviews in Shopping.com's Home and Gardens section.
As a result, many comparison sites have been forced to put some checks and balances in place. If Pricegrabber.com finds that a company has doctored a review, it permanently bans the firm from its site.
In addition to collecting information about various types of products, the sites feature links to vendors and retailers, so shoppers are whisked away to e-commerce locations that can take their orders. "Because the consumers prequalify themselves, online shopping sites generate a large number of qualified sales leads," said Patti Freeman-Evans, an industry analyst at Jupiter Research.
Retailers Working in Collaboration
Consequently, retailers are working closely with online comparison-shopping sites. "At first, many retailers thought that the comparison-shopping sites presented them with competition, but now they view them as another distribution channel," said Ross Rubin, senior analyst at market research firm eMarketer.
The high success rate translates into top advertising charges, and that has attracted a growing number of competitors. In 2003, Google entered this space with its Froogle service, and Microsoft and Yahoo have been improving their online comparison-shopping services ever since. Online retailers, such as Amazon.com and eBay, have been developing their own online comparison systems. Meanwhile, large retailers are starting to offer such services so consumers will stay on their sites rather than go somewhere else to make a purchase.
As the balance of power shifts in the online marketplace, sites are struggling to differentiate their services from one another, and a few have been shifting their focus. "A lot of the sites started off concentrating on providing consumers with the lowest-cost item," eMarketer's Rubin told TechNewsWorld. "Then the vendors discovered that the consumers were more interested in quality and reliability; only one out of every four purchases is based solely on price."
Distribution agreements have been another area gaining attention: The Neiman-Marcus Group works only with BizRate. Since most sites try to sign up as many retailers and distributors as possible, such special arrangements are becoming rare.
Timeliness and Presentation
Timeliness of data is another area of emphasis. Getting data from suppliers is fairly straightforward, but companies are examining how to use information they collect more effectively. In monitoring user experiences, sites can consolidate significant amounts of data about consumer brand preferences, price patterns and buying tendencies. Some are thinking about selling that data to retailers, who always want to gain more insight into which features are most important to their consumers.
Another area of emphasis is presenting product data in a more user-friendly and effective manner. "Pricegrabber.com has a feature where the system automatically notifies me when a product's price drops to a certain level," said Greg Lantz, a Riverside, California, native who uses the site to find the components needed to build computers from scratch.
As the competitive landscape intensifies, dividing lines between this market segment and related technologies, such as portals, might blur. "The key to success with online shopping is traffic," noted eMarketer's Rubin. "Folks like Google and Yahoo have plenty of it. So while online comparison-shopping has a great deal of potential, there is a question about whether it will remain a stand-alone business or become a service bundled in a portal."