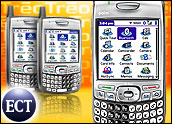 Palm has joined the mobile application shop bandwagon, launching its own app store for Palm handsets running the Palm OS as well as those running Windows Mobile.
The launch means owners of Palm devices now have access to more than 5,000 applications, including over 2,000 games and more than 1,000 free apps. Applications include a Facebook app for the Centro, "Pac-Man," "Scrabble," "Astaware Sudoku," "Fish Tycoon," and "Pocket Quicken."
"There are some things that probably get too much attention. They are business fads, and that is one of the fads right now. There are some compelling reasons about it, though," said David Chamberlain, an analyst at InStat.
If the App Fits
Dubbed the "Software Store," Palm's new app center is powered by PocketGear, a player in the application distributor space that's racked up some 50,000 applications since it made its debut in June.
"I doubt that [handset makers] are making a huge investment in these application stores. This is more like adding an application to your cell phone deck than having to reinvent all the ways to buy it; choose it; and all those connections. That's no major investment," Chamberlain told TechNewsWorld.
Users can either download apps from their PC to their smartphone or take the simpler route and install the free software on their handset to purchase apps through the store and download them directly to the device.
Growing Retail District
Palm's application site follows in the footsteps of Apple's very popular App Store and Google's Android Market. BlackBerry also has a site in the works that it plans to launch in March. As successful as the App Store has been, Chamberlain said that there are ways that Palm could improve upon the model.
When it originally launched, "one criticism of the Apple App Store is that there was no rating system. So you didn't know if maybe 10,000 had downloads [an app] but 9,800 thought it was a piece of crap or deleted it in five minutes. It didn't have the feedback available at some of the other app stores," Chamberlain noted. Apple's app store has since added user-generated feedback.
In general, however, he said the notion of providing a storefront for compatible applications for your own device "is a very good one."
"It's a very strong one. I don't think that in the case of Palm or anyone that it represents a change in the way the distribution is going on and there aren't any big modifications in the way that application development is going on. It's a new marketing technique but I don't think underlying there are any big changes. It's not the sort of thing to make me think there is a sea change going on in application development or marketing. But, you'll see more of this," he concluded.