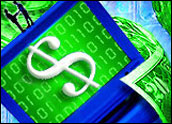 Palm staked its claim in the low end of the smartphone market Thursday with a new device priced at US$99.99 with a two-year plan and rebates.
The new Centro features voice, text, instant messaging, e-mail, Web, contact and calendar capabilities, along with a full-color touch screen and full keyboard. Due in mid-October, the device will be exclusive through Sprint in the United States for 90 days. It operates on the Sprint Mobile Broadband Network, and will be available in onyx black or ruby red.
"Palm Centro has the power of a broadband smartphone at the price of a standard 12-key phone," said Ed Colligan, president and chief executive officer at Palm.
"People looking to have all their contacts and calendar at the touch of a button, plus YouTube streaming videos and the Internet can now get it in a small, cool design with the trademark Palm ease of use," he said. "If you're thinking about stepping up to a smartphone, the Palm Centro should be your choice."
Palm-Sized Palm
With a new, compact design, Centro is the smallest and lightest Palm phone to date. It also comes with the Palm OS, featuring organizer functionality such as a detailed and integrated contacts list. The device allows users to quickly and easily send text messages to coworkers and friends, manage e-mail, keep track of their schedules, check stock quotes, watch videos on YouTube, keep current on the latest news, capture and share pictures, browse restaurant reviews, and get directions — all in one compact phone, Palm said.
By tapping into Sprint's Mobile Broadband Network, Centro users will gain access to multimedia content such as Sprint TV, personalized news updates, picture mail, mobile e-mail and instant messaging. Sprint Music Manager lets Centro users sideload songs and manage their music easily, while the device is also the first phone from Palm to include PocketTunes Deluxe.
"Sprint customers can seize the day with Centro to stay on top of e-mails, use text or Sprint Instant Messaging for quick answers, manage appointments, view documents or to make use of a multitude of other productivity boosting and entertaining features all at SprintSpeed," said Danny Bowman, vice president of customer equipment for Sprint.
"As the first provider of this unique phone, Sprint is demonstrating its commitment to giving customers the best products and service available on the Sprint Mobile Broadband Network, the fastest and largest national mobile broadband network," Bowman said.
Targeting the 'Prosumer'
"I think it's a great device," Chris Hazelton, senior analyst for mobile device technology with IDC Research, told TechNewsWorld.
"It's their first product refresh since the Treo," Hazelton noted. "In terms of size, it's a little bigger than RIM's Pearl, a little smaller than RIM's Curve."
The Centro is targeting a new market, Hazelton added, but "it bumps against the markets Pearl and Curve sit in." With its low price, touch screen and full keyboard, the new smartphone "is very well-designed for the 'prosumer,' but it's more '-sumer' than 'pro-,'" Hazelton added, "because it's really for Internet e-mail, not enterprise e-mail."
Tough Competition
U.S. smartphone shipments are expected to grow from 13.8 million in 2007 to 74.4 million in 2011, Palm says, citing data from IDC. As is generally the case in rapidly growing markets, however, the competition promises to be fierce.
"The Centro sounds like a nice phone at a nice price, but it's being launched into a very competitive market," David Chamberlain, principal analyst with In-Stat, told TechNewsWorld.
"Unless there's something hugely astonishing about it, like a 10-megapixel camera or 16 GB of on-board memory, it sounds a lot like the color-screen Treo I had five years ago," Chamberlain added. "Touch screen doesn't mean iPhone — it just means touch screen. What would really interest me is if it had WiFi."
Indeed, while all the excitement over the iPhone's touch screen could lead to a raft of imitators, "I don't think the iPhone is killing Palm," Neil Strother, wireless analyst with JupiterResearch, told TechNewsWorld. "Palm's got big problems, but I think they started before the iPhone."
Big Challenges
Palm's operating system, for instance, "is getting pretty stale," Strother said, and its Foleo device, meanwhile, never made it to market.
RIM's BlackBerry devices along with Microsoft Windows Mobile devices and entries from Samsung and Nokia are all making it difficult for Palm, Strother added. "They've been struggling because big competitors are now in their space," he said.
Palm has been dependent on the Treo for a while, Strother noted. "This new model may do fine, but the issue is that there are other phones out there that are winning mind share and some market share, so it's tough to compete," he explained.
Success will depend on the device including "something that's really overly compelling," Strother concluded, "but I think Palm just hasn't garnered that."
Palm shares rose 85 cents, or 5.2 percent, to $17.25 in Friday morning trading.