The Electronic Entertainment Expo (E3) focuses on the gaming industry and its media, and the Game Developers Conference revolves around … well, developers. However, the Penny Arcade Expo in Seattle is all about those who, in the words of one PAX official, "pay the salaries."
Gamers really do rule at PAX. Despite a recession that has started slashing away at industry revenues, the fifth edition of PAX on Sept. 4 through 6 pre-sold so many one- and three-day passes to the public that for the first time in its brief history, show officials had to shut down registration before the doors to the cavernous Washington State Convention Center even opened. The crowd estimate: approximately 70,000 strong.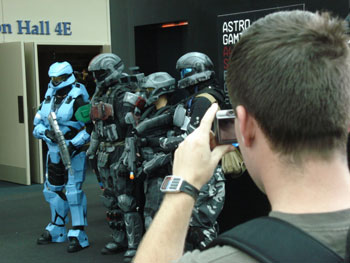 Costumed fans make an appearance at PAX.
As one of those lined up at Bungee's "Halo: ODST" booth might put it: Gamers fragged their recession fears, Master Chief-style.
"Unlike trade shows, where many of the attendees are there for largely professional reasons, consumer events have a distinctly positive vibe," said Hal Halpin, president of the Entertainment Consumers Association, a non-profit membership group established to represent those consumers. "Everyone there wants to be there. They're excited to be there, and it's contagious. The difference is palatable. The industry clearly appreciates the show, as each year the booth spaces become more complex, the product line-ups become more impressive and the show becomes more important in their event calendars."
That would explain the massive "Avatar" sign promoting the game based on James Cameron's forthcoming, much-ballyhooed 3-D movie extravaganza — as well as the line stretching around the booth. It would also put a day-glo exclamation point on the concert-style stage area set up by Harmonix to invite consumers to sing and strum along with the Fab Four in the highly-anticipated "The Beatles: Rock Band," which hit store shelves Sept. 9.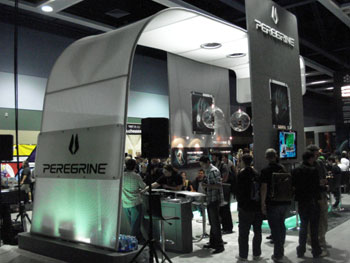 The booths — and the crowds — get bigger every year.
The two gaming giants based in the Seattle area, Nintendo and Microsoft, had plenty to lure the mostly male 20-somethings attending PAX. Although Bungie is now independent from Microsoft, the aforementioned "Halo ODST" was the main draw for Xbox 360 fans. Nintendo's just-released "Wii Sports Resort," featuring the new Motion Plus controller attachment, had them waving a more responsive Wiimote like mad at nearby flat-screens. Nintendo also showed why it maintains a large lead in the handheld gaming device category with new offerings for the DS, including 5th Cell Media's "Scribblenauts," another unique game designed to expand the industry's audience base.
There were women dressed as Princess Peach, Super Mario's main squeeze, and guys suited up like "Halo" marines. Valve Software, another Seattle-area software company and the makers of the classic "Half-Life" and "Counter-Strike" first-person shooter games, showed off their newest zombie bloodbath, "Left4Dead2." A roving band of heavily armed, undead-killing mercenaries provided entertainment by posing for pictures for those waiting in line to play the game.
Massively multiplayer online games (MMOs) via PC were represented with large "World of Warcraft" and "Diablo" booths.
For the old-school gamers in the crowd, you could check out the "Dungeons and Dragons" area, where the 10-sided dice and divine spells were flying. It served as a potent reminder of just how far the gaming industry has come in 25 years — and how quickly PAX has grown into a major celebration of that gaming culture.
From Party to Packed Convention
Penny Arcade Expo gets its name from a popular Web comic which first hit the Loonygames Web site in 1998 before eventually moving to penny-arcade.com. Writer Jerry Holkins and illustrator Mike Krahulik both send up and pay homage to gamers and the gaming life with their characters Tycho and Gabe.
Holkins and Krahulik started Penny Arcade Expo as a way to put fans of console, computer and tabletop games on equal footing. The first PAX, held in Bellevue (across Lake Washington from Seattle) drew just over 3,000 people. That was all that was needed to plant the seeds of success; just as the big E3 show was getting too big and becoming an invitation-only event in 2007-2008, PAX was effectively doubling in size and exhibitor space every year.
"I think the growth of our show picked up some of that slack" from E3, said Mike Fehlauer, PAX sales director. "But now it's cleared out its own space, because the focus is on the consumer, the people who pay the salaries."
Fehlauer spent the show's second day, Sept. 5, putting out minor logistics fires and celebrating the fact that thanks to managing attendance, convention center officials were able to release an additional 1,000 tickets. "It seems the attendance cap was a pretty good idea. It's full in there but not crazy crowded. There's no jostling," he told TechNewsWorld. He wants to make sure future expos continue to achieve the balance between electric crowd atmosphere and elbow room. "We want to make sure that our attendees have a great experience, and if that means we have an attendance cap, we'll do that. We'll just make sure we keep an eye on that and don't get too big too fast."
Fehlauer also doesn't want to get too big for small companies and development firms. PAX keeps the cost of booth space down to a reasonable level so developers with low budgets can get their work noticed. "We recognize that a lot of innovation comes from small developers," he said. It's also a big reason why the show instituted the PAX 10, a competition for independent games being developed for a wide variety of platforms, including social media and smartphones.
To help spread the wealth even more, PAX will expand beyond Washington state for the first time in 2010. Pax East Coast is set for late March in Boston with an eye on helping gaming companies and consumers anticipate big events in the industry. "E3 is in the middle of the year when they (companies) get the press, and at the beginning of the selling season (in September), here comes Pax," Fehlauer said. "So in March you make your announcements, you show off the game's development process at E3 and at our show, you show it off for good."
Action in the Games – and at the Booths
Many of the games being played at PAX were either days or weeks away from hitting retail shelves, giving the developers and distributors on hand an early glimpse at their eventual success or failure. Some titles sell themselves; the marketing for "The Beatles: Rock Band" started with early-year announcements, mainstream media coverage and blessings from the two surviving Beatles, Yoko Ono and Giles Martin, son of longtime Beatles producer George Martin. Yet John and George were no doubt beaming in rock and roll heaven at the sight of those born long after the band's breakup grabbing the "Rock Band" instruments at the Harmonix booth and trying to keep up with songs from various stages of the Fab Four's career. All doubts about generational obstacles to the game may have been erased at the sight of a 40-something mom strumming the guitar part to "Dear Prudence" while a daughter who could not have been older than 10 did her best Ringo Starr impression.
Therein lies the key to growth within the gaming industry — expanding the demographic to include those who aren't into button-mashing combos on Xbox or PlayStation controllers. To be sure, there were plenty of what might now be called "traditional" video games at PAX that will be awaiting hard-core fans when they release for sale sometime in the fourth quarter of the year, and nearly all had a number somewhere in their title thanks to a reliance on franchise strengths: "God of War 3," "Lost Planet 2," Battlefield 2," and the like.
However, over at the Nintendo DS area, afficianados of handheld gaming were crowded around the "Scribblenauts" game. The mantra for this title from Bellevue's 5th Cell Media? "Write anything. Solve everything." Over on the opposite side of the main exhibit area, the same scrum-like crowd was seen at the "Scribblenauts" display at the Warner Brothers booth, giving 5th Cell cofounder Jeremiah Slaczka two big reasons to smile.
"As you can see, it's crazy," Slaczka told TechNewsWorld as he watched the action at the booth. "We're loving it, people are loving it. That's the cool thing about 'Scribblenauts' — you just show up and you can get in and play the game. People go nuts."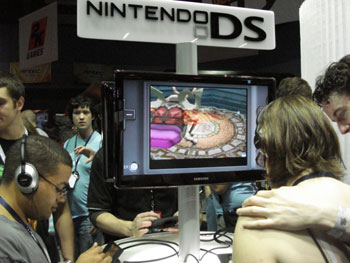 PAX celebrates games played on the console, on the table, on the PC and on the handheld.
The game's concept is diabolically simple: Any word you write down becomes an object in the game, and then that object can be used in several different ways to solve puzzles. It follows in the same path as "Brain Age" and other games that combine the DS' stylus pen and your ability to think your way out of a problem — no cheat codes or space-age weapons required, and say hello to a potential expansion of the gaming demographic.
"I think a game like this does that," Slaczka said. "It's all about imagination. There are two things most everyone can do — you can write and you can imagine. You can write anything in words and it will appear in the game. Anything you can think of, you can write, and it's going to work like it should."
A Trade Union for Gamers?
Sandwiched between two floor-to-ceiling posters featuring heavily armed women — one military in nature, the other a possible future ex-wife of Conan the Barbarian — is the Entertainment Consumers Association (ECA) booth. It's actually more of a refuge from computer-generated explosions and costumed PAX-goers; sheer white curtains block off a lounge area where gamers can relax, use cellphones in relative quiet and learn more about the ECA's mission, which is: Gamers should know their rights.
Rights? Is there a revolt brewing among gamers?
Not exactly, said ECA president Hal Halpin. "As consumers on the leading edge of technology and connectivity, gamers are among the first impacted by changes to related issue areas," Halpin told TechNewsWorld. "It's important for gamers to be aware of their rights as they are now and how they may be changing going forward. As our industry moves from a packaged goods product that one can buy and own, to a digital distribution-based product that one can purchase and have a license for, we need to be cognizant of what rights we lose in that process."
Other issues like net neutrality and universal broadband access also impact the evolution of gaming and the potential enjoyment for fans, Halpin said. However, another organization, the Entertainment Software Association (ESA), already lobbies lawmakers on behalf of the industry while also monitoring the ratings systems for parents.
Halpin points out the differences in the two groups while acknowledging similar goals. The ESA is a 501(c) 3 non-profit trade association, while the ECA also enjoys non-profit tax-exempt status as a membership organization. "Where our interests often are aligned, they occasionally are not," he said. "One such example might be the digital rights issue we discussed before, where the consumer's best interests and those of the manufacturing corporation wouldn't necessarily be the same."
The opportunities for growing the industry — and thereby having more different types of games to play — are all on display on the PAX show floor. Halpin is surprised that the segment is broadening as fast as it is, and he does give some credit to rise of social gaming, consoles like the Wii and new technologies. However, it's also about the maturation of Generations X and Y, also in abundance at the Washington State Convention Center.
"Having grown up with gaming as a part of our broader entertainment diet, we play games and ingest that media similarly to music, movies or TV, unlike the Baby Boomers — who largely watched their children and grandchildren play," he said. "The vast majority of the people who regularly play computer and video games probably wouldn't call themselves 'gamers,' but they are."