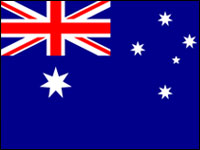 Australian prime minister Julia Gillard is taking flak from the nation's tech industry for accusing IT firms of abusing the nation's skilled migration program.
The "457 visas" program is designed to facilitate the immigration of skilled overseas workers to fill voids in the labor force. Gillard, however, said that the nation's tech industry is abusing the plan as "a substitute for spreading important opportunity to Australian working people."
"It is just not acceptable that information technology jobs, the quintessential jobs of the future, the very opportunities being created by the digital economy, precisely where the big picture is for our kids, should be such a big area of imported skills," Gillard said.
Australia's tech sector has taken exception to her comments. Matt Barrier, the CEO of freelancer.com, called her rhetoric "desperate vote-mongering." He added that Australia wouldn't have an IT sector without overseas labor.
Australia does not have the requisite number of experts to staff its IT sector with native employees, added the cofounder of software company Atlassian. He also pointed out that the nation's unemployment rate is a palatable 5.4 percent.
Australia's IT sector, the nation's largest for temporary overseas workers, has lured 5,800 overseas workers in the past seven months. By contrast, the nation had but 4,500 IT graduates in 2011.
[Source: The Age]
France Forbids Apple's Overnight Staff
A Paris court ruled this week that Apple Retail France, which manages Apple's stores in that country, must quit asking its employees to work shifts between 9 p.m. and 6 a.m.
The case stems from a complaint by multiple unions and will affect seven Apple stores in France.
Apple will also be forced to pay 10,000 euros in damages to the unions which brought the case.
More litigation could be coming: Sud, a union in France, is now requesting a 13th month of annual salary should employees be asked to work overnight for occasions like product launches. Sud had unsuccessfully called for strikes when the iPhone 5 was released this winter.
[Source: ZDNet]
Amazon to Launch Kindle Fire HD Overseas
Amazon is introducing its 8.9-inch Kindle Fire HD in new foreign markets.
The device will be available in the UK, Germany, France, Italy, Spain and Japan. The price will vary from about US$340 in the UK to $348 in continental Europe and $258 in Japan. The price variance is reportedly due to different operating costs.
The 7-inch Wi-Fi Kindle Fire HD tablet is already available in Europe and Japan.
[Source: Giga OM]
Smartphones Become Medical Tools
In rural Tanzania, scientists used an iPhone 4 to diagnose intestinal worm infections among schoolchildren.
By attaching a cheap ball lens and light to the device's camera lens, the scientists improvised a sort of microscope that was able to take photos of stool samples. These photos were successfully able to detect worms 70 percent of the time. Severe infections were found 90 percent of the time with this method.
One of the doctors involved in the procedure said that any mobile phone with a decent camera and zoom function would do — he just happened to have an iPhone.
[Source: American Journal of Tropical Medicine and Hygieneand the BBC]