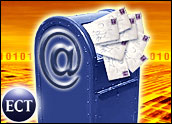 The U.S. Postal Service would like to add a new word to the mix of adjectives like "slow" and "inefficient" that have been used to describe it in the past. That new word is "intelligent," and it symbolizes the high-tech spark that is energizing this old-line government agency.
A confluence of factors is pushing the Postal Service to expand its services so it can track not only individual packages, but also individual letters, from the starting point where they enter the system to their ultimate destination.
The work is at an early stage, so several years likely will pass before this technology achieves widespread adoption, but some smart-system features are already beginning to show up in select services.
The push for new features should come as no surprise: Throughout its history, the Postal Service has been under pressure to modernize its operations. However, that pressure has intensified since the advent of the Internet.
"The Post Office has to take steps to enhance its services, or it runs the risk of eventually becoming irrelevant," said Rick Merritt, executive director of PostalWatch, a nonprofit advocacy group.
No More Stamps
The new initiative hinges on the Postal Service's One Code vision, which calls for a single bar code to be used to identify the 200 billion items delivered each year. Postal Service officials will scan mail as it comes into a post office and then use various computer systems to track it as it moves from origin to destination.
The new, "smart" bar code will replace the stamps, stickers and bar codes now used for optional services like sender notification. It will identify the sender, the destination and the class of mail and also should improve mail delivery and tracking capabilities.
Such benefits are designed to help the Postal Service compete against private firms like Federal Express and UPS, which have been using this kind of tracking for years. Much like the UPS tracking process, customers and postal workers will be able to obtain information about when a piece of mail was sent, who sent it and where it is in the system.
Customers also will be able to determine if, say, a magazine or payment has arrived at its destination, and companies will be able to find out when a particular customer has received a catalog. Using this intelligent tracking system, a company could follow a mailing with a phone call as soon as the mailing is received, taking its marketing efforts to the next level.
In addition to boosting customer satisfaction, the changes will help the Postal Service save money by allowing officials to develop more integrated — and therefore more efficient — processes for mail handling. Currently, the agency uses several autonomous systems that track items like overnight mail, certified letters and first-class mail. The intelligent-mail initiative would consolidate those tracking functions.
Turning a Big Ship
However, as the Post Office behemoth moves ahead with its initiative, it faces significant challenges, probably stemming more from the agency's size — 750,000 employees — than from the technical complexities associated with implementing intelligent-mail capabilities.
"The Post Office is a large organization with a lot of different constituencies that sometimes don't have the same goals," Merritt noted.
In addition, questions are emerging as a result of the initiative's backing by the U.S. Department of Homeland Security. Apparently, Homeland Security thinks the ability to track all U.S. mail more closely would help police organizations respond to terror threats. On the other hand, this same possibility is making privacy advocates uneasy.
Those privacy advocates fear the government will adopt a Big Brother mentality and monitor the mailings of all its citizens — and that this change will deter whistle-blowers and tipsters from speaking out about various issues.
Of course, not everyone shares those worries. "Frankly, I've been a bit surprised about the privacy concerns," PostalWatch's Merritt told TechNewsWorld. "The ability to track mail is no different than monitoring e-mail or telephone conversations, which the government can do now."
One possible solution is to track mail selectively. "The Postal Service may follow the lead of the Internet and have an opt-in feature where individuals decide whether or not they want to take advantage of the tracking features," said Dan Blum, a senior vice president at the Burton Group, a market research firm. "That should make the privacy advocates feel a little more secure."
Putting the Pieces in Place
Though the Postal Service has a long way to go to realize its goal, it is making strides.
The intelligent-mail initiative began earlier this year, with the formation of the agency's intelligent-mail and address-quality groups, and officials have spent the past several months developing an overall plan.
"You will probably see intelligent mail rolled out in phases, with the Postal Service targeting corporate customers first," said Davis Ferris, president of Ferris Research, a market research firm.
The Postal Service also has drafted an "Intelligent Mail Corporate Plan" and has established an officer-level steering committee and an executive-level working group to assist in setting the course. In addition, the agency has formed a Mail Technology Strategy Council, which now includes representatives from various technology organizations.
In fact, the Postal Service has already unveiled the first intelligent-mail application, called Confirm. By subscribing to the service, businesses can gain the ability to track their mailings. A few hundred firms have signed up so far. While the service is not yet available at the consumer level, it is only a matter of time before the Postal Service implements and offers the technology to its entire customer base.
With effort and time, the Postal Service's new intelligent-systems work may consign its legacy of slow, plodding progress to the dustbin. The new entity that emerges will still be the U.S. Postal Service, with one vital difference that could even serve as a slogan: This service is smart.